Malvern Forum Theatre – 15th September 2022
Reviewed by Julie Bellerby
3***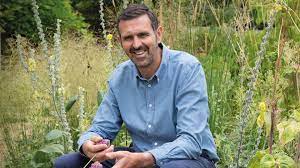 Adam is a presenter on Gardener's World and also appears regularly on the BBC's cover of the RHS Flower Shows. This, his first night of the current tour, was greeted by an enthusiastic audience.
An informative and entertaining evening learning about Adam's (and 'Mrs Frosts's') life and professional journey. We all have a story to tell and Adam is very honest about some difficult stages in his life, all put across without seeking pity or sympathy of the audience.
Growing up his love of gardening grew from an early age, and he says he was surrounded by creative people and along with his natural talents for design, he has worked hard, along with taking a few risks, so his progression in the industry has been successful.
He had a screen to display images of people and Gardens he had worked with whilst talking about the influences in his life. There were amusing antidotes, and the audience were appreciative as the evening drew to a close.
There was, of course, a book just released, which he was happy to sign after the show.
It was a very pleasant evening, regardless of your knowledge of Adam and his career, this was about the life of, and not a gardener's question time.