Edinburgh Fringe Festival
Summerhall Anatomy Lecture Theatre Venue 26 – until 28 August 2022
 Reviewed by Rachel Farrier
5*****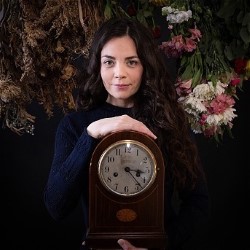 Hayley McGhee has created an absolute gem of a solo show in Age is a Feeling. A day after seeing it, some of the lines (and feelings evoked) are still zinging around my mind (and heart). In other hands the concept of this show might feel cliched and presumptuous but McGhee's mesmerising presence on stage and terrifyingly insightful script are beautiful, compelling and moving from start to finish. 
Starting at age 25 (when your adult life begins.) McGhee effectively goes on to describe a life, with all the possibilities, pain, joy and terror in between. The opening line (which I may be paraphrasing, apologies) 'Nobody gets to know everything about your life, even you', starts both McGhee and the audience on a quest. The audience gets to choose the course of the 'life' that is described by picking specific words that will direct which script McGhee follows. Apart from anything else, my companion and I marvelled at McGhee's ability to hold all the options in her head, without breaking the fluency of the show at all.
The insights and observations are by turns hilarious and deeply moving, and on many occasions so on point that it felt like I had been hit in the chest. The knowing laughs and awed silences of my fellow audience members indicated that we were all having the same experience, as particular parts of the story resonated with our own lives. It is not often that I leave a show (especially a Fringe show..) knowing that it will stay with me for years to come, but I feel sure that this one will. Go and see this show is you possibly can.