Darlington Hippodrome – until 24 September 2022
4****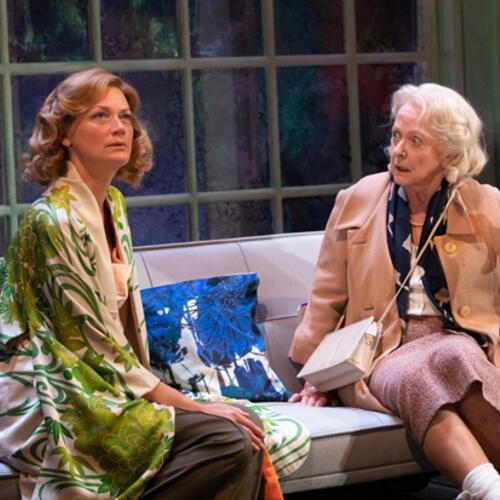 An Original Theatre in association with JAS Theatricals brings, adapted for the stage by Rachel Wagstaff, the iconic Agatha Christie story 'The Mirror Crack'd'.
When it comes to Miss Marple I am a bit of a purist. I believe the BBC adaptation starring Joan Hickson to be the best versions of Agatha Christie's spinster sleuth. And this version was a joy to watch. This is a wonderful introduction to an ingenious spider's web of deceit and plot twists. Just when you think you've cracked it, there is another startling revelation added to turn the plot on its head.
Set in St Mary Mead, a small village in England, the beautiful film star Marina Gregg (Sophie Ward) with her husband Jason Rudd (Joe McFadden) relocates from Hollywood. Bringing with them devoted Butler (Lorenzo Martelli) and assistant Ella (Sarah Lawrie) At one of her lavish parties there is a murder. Can Chief Inspector Dermot Craddock (Oliver Boot) work out who killed Heather Leigh (Jules Melvin) or does it require the detective skills of Miss Marple with some help from her nosy neighbour Dolly Bantry (Veronica Roberts)? And will anyone notice Mr Leigh (David Partridge)? Could he have vital evidence if they do?
Enter Miss Marple (Susie Blake). Demonstrating just the right amount of dottiness to hide the steel trap of mind she has. Seeing and hearing everything – little nuances and characteristics. Side stepping red-herrings and keeping one step ahead of the police as she solves the crime and nails the killer.
The set for this show is basic but works well. I was fascinated how seamlessly the cast moved around the stage moving the props as part of the storyline. It was cleverly done and enabled the story to progress at the fast pace required. As with any 'whodunnit' there are many flashback scenes, and these are done particularly well.
The star of the show was, as you might expect, Susie Blake who was first class. However credit to Oliver Boot and Veronica Roberts who were close seconds. A special mention here should also go to Mara Allen who played Cherry Baker and Chrystine Symone who played Lola Brewster; their little subplot helped to build the story and provide red herrings and clues.
For me this was a glorious interpretation, made even better by the fabulous set and stunning costumes designed by Adrian Linford. Overall, Phillip Franks' direction, Max Pappenheim's sound and Emma Chapman's lighting have excelled in this tantalising and atmospheric production of this show. The play, running in Darlington until Saturday 24 September and around the UK, showcases clear hard work and talent all around, from an impressive set, to engaging performances to the effective buildup of tension through out, The Mirror Crack'd is not one to be missed as it brings to life the excitement and intrigue of the murder mystery genre.