ACCLAIMED COMEDIAN & IMPRESSIONIST
RORY BREMNER
STARS AS CHRIS TARRANT
IN JAMES GRAHAM'S
SMASH HIT PLAY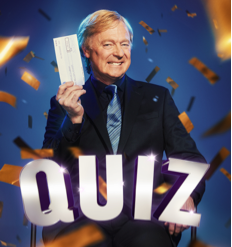 TOURING THE UK
FROM 22 SEPTEMBER 2023

*****"Furiously exciting"
Time Out
**** "Utterly compelling"
The Times
**** "A thrilling blend of entertainment, politics and justice today"
Sunday Times
Rory Bremner, Britain's top satirical impressionist and renowned comedian, stars as Chris Tarrant in James Graham's thrilling and provocative drama, Quiz. The production explores the real-life story of Charles Ingram, aka the Coughing Major, who conned the world's most popular TV quiz show, Who Wants to Be a Millionaire out of £1,000,000. Or did he?
Nominated for two Olivier Awards including Best New Comedy, James Graham's smash hit play, Quiz, transferred to London's West End with sensational reviews in 2018, following a sold-out run at Chichester Festival Theatre. And in 2020, millions tuned in to see the three-part ITV adaptation starring Michael Sheen, Matthew Macfadyen and Sian Clifford.
Quiz now returns to Chichester Festival Theatre before embarking on a 9-week UK tour from 22 September to 2 December 2023, with press night on 28 September 2023.
Roryis 'a one-man opposition party' (Daily Telegraph). As a mimic, he's provided definitive impersonations of PMs and Presidents from Major, Blair, Cameron and Brown, to Clinton, Bush and Trump. As himself, he's been a presenter, writer, quiz-show host, actor, translator and even (briefly) ballroom dancer (Strictly Come Dancing, 2011).
Rory Bremner says "I'm very excited about this; not just the challenge of playing Chris Tarrant in long form but bringing the scandal that really caught the public's imagination to a live audience every night. What really happened? The jury's out- and this time it's you!
I didn't have to phone-a-friend. It wasn't even 50/50. This was a role I had to take on, with A: a brilliant director; B: a terrific script; C: a different audience live each night; and D: a story that divides opinion to this day. Final answer? Ask the audience!"
September 2001:
the nation is gripped by a scandal that remains, to this day, a mystery.
In an outrageously audacious heist, Charles Ingram, aka the Coughing Major, and his accomplices duped the world's most popular TV quiz show,
Who Wants to Be a Millionaire, out of £1,000,000.
Or did they?
And if they did cheat, how did they really do it?
Uncovering new evidence, it's time to ask you, the audience, to put fingers on keypads and answer the ultimate 50/50: guilty or not guilty?
Quiz is directed by Artistic Director of Chichester Festival Theatre, Daniel Evans and Seán Linnen with design by Robert Jones, and produced by Jonathan Church Theatre Productions and Wessex Grove, by arrangement with William Village. Lighting by Ryan Day, composition and sound design by Ben and Max Ringham, with video by Tim Reid and casting by Ginny Schiller CDG
QUIZ is a fictional imagination based on real events which took place in 2001 following an episode of Who Wants To Be A Millionaire? It is not in any way connected with the makers of the programme or any of the individuals portrayed. The television programme Who Wants To Be A Millionaire? is produced by 2waytraffic.