Theatre Royal Windsor – until 30 March 2023
Reviewed By Carly Burlinge
4****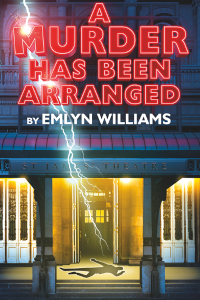 Bill Kenwright presents The Classic Thriller Theatre Company A Murder Has Been Arranged by Emlyn Williams.
The show is set in the 1930's, a ghost story told whilst on stage of St James theatre. Charles Jasper (Gary Webster) who is about to inherit an exceptional amount of money being two million dollars. He decides to throw a dinner party for his 40th birthday inviting his nearest and dearest, this including his wife Beatrice (Hannah Arterton) who's a lot younger than himself and her mother Mrs Arthur (Marti Webb) who comes across as if she's all about the money and likes to be heard. His secretary Miss Groze (Louisa Clein)  comes across on edge, the whole thing is spooking her and she is sensing weird creepy ghostly goings-ons. Joining the party also is Charle's old loyal maid Mrs Wragg (Deena Payne) She plays a character very on point know what her job entails and believes she is seeing ghosts around the theatre, this offering slight humour throughout the show. Also, there's Jimmy North (Leon Ockenden) who gate-crashes the party at the beginning and it seems he has an eye for Charles Wife Beatrice.
Charles Jasper is an eccentric author and also enjoys the paranormal, so where else better to celebrate than in a old haunted theatre, where mysterious deaths have happened in the past! However, if anything were to happen to Charles his fortune will then fall into the hands of nephew Maurice Mullins (Ben Nealon) a missing relative, that just happens to turn up on the evening of his birthday. Funny enough this begins to take a turn for the worst on his arrival. He discloses that he is a novelist and as the evening unveils, he later involves his uncle into writing down words for a chapter of a novel for his is new book, although all is not as it seems but in a fact a suicide note, now written by his very own hands. With many twists and turns, A Murder Has Been Arranged offers you a classic thriller that will keep you engaged throughout.
I loved the opening scene of a piano being played beautifully offering a calm setting with candlelight only for an outrageous scream to take hold, shocking the whole audience and drawing them in cleverly done certainly made me jump.
I did enjoy the production although I did find the first half a little slow on the uptake with the second picking up the pace extremely quick, drawing in your observation. Despite this an entertaining, amusing evening was had at the theatre.
I also feel that the theatre which is gorgeous with much character and its staff need a mention, I can't emphasis just how wonderful the staff are changing my seats at the last minute and finding two end seats for me and my partner too be more comfortable whilst on crutches. It wasn't a problem at all and they handled it with care and a smile on their faces making me feel totally at ease! This making my visit an even better relaxing experience! Thank you