Darlington Hippodrome – until Sunday 3 July 2022
5*****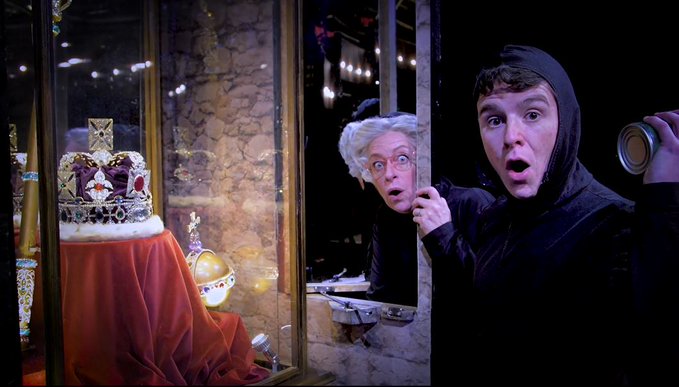 Ben hates Friday nights, because on a Friday he has to stay with his very boring, cabbage eating Granny, while his mum and dad go ballroom dancing,  But it all changes when Ben discovers that Granny is really the Black Cat, a famous jewel burglar.  So Ben and Granny decide to do one last heist and steal the Crown Jewels.
Birmingham Stage Company's adaptation of David Walliams Gangsta Granny is the perfect introduction to get young people into the theatre.
Told through the eyes of 11 year old Ben (Justin Davies). Each Friday night whilst his self-obsessed parents (Jason Furnival and Jess Nesling) go off to ballroom dance, Ben is unceremoniously dumped at his grandma's with hardly a word of hello.
There will be cabbage soup, cabbage pie and cabbage cake and Ben knows one thing for sure – it's going to be sooooooooo boring! But when Ben discovers some gems in a biscuit tin and realises his Granny (Isabel Ford) has a secret, life becomes much more exciting for both of them. Carefully treading a moral line, the story tells us that Granny never profited from her crimes, committed them only for the "buzz" and has come to the view that stealing is wrong. Nevertheless, she has never succeeded in her dream of stealing (and returning) the Crown Jewels. Can Ben use his encyclopaedic knowledge of plumbing to help Granny pull off the crime of the century, even under the nose of Mr Parker, local neighbourhood watch supremo and busybody?
Jacqueline Trousdale's set makes clever use of the space, with the set moving one way to be a shop and another to be Granny's kitchen. Paul Chantry and Rae Piper's choreography is so succinct you don't notice the set changes with the cast dancing through them. Neal Foster has successfully adapted Walliams book and directs a fun and colourful show – full of comic opportunities and fart jokes
All the characters are very much larger than life and almost pantomime-like, but this adds to the energy of the piece which moves along at a cracking pace and holds the younger audience members' attention.
Gangsta Granny appeals to all ages and people. It is relevant to today's society where old people can be viewed as insignificant. This play has a comical way of dealing with this stereotype, turning it completely on its head.  Filled with laughter and farts, its funny and poignant and a fabulous night out
I just hope when my time comes, I won't be boring but very much a Gangsta Granny