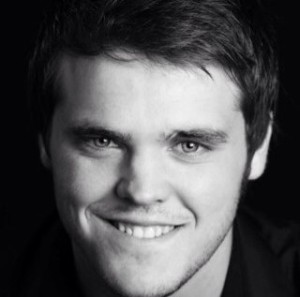 Up and coming musical theatre star, Alistair Barron, answered 20 questions
As always we start with some favourites
Favourite show (whether you have been in it or not)?
My favourite shows when I first became interested in becoming an actor were Phantom and Les Miserables and they inspired me to become a professional. One of the best shows I've ever seen has to be Newsies on Broadway. Those Kids are ridiculously talented!!!! I could give them a tip or two on their Backflips though!!!
Favourite book?
One of my favourite books has to be "Year of the of the king" Written by Sir Antony Sher, must read for all actors.
Favourite theatre?
I've been lucky to have performed in most of the Theatres in the UK!! Tough question… The Royal Albert Hall is amazing.
Favourite song?
Off the top of my head, She's Always a Woman – Billy Joel.
Favourite music?
I Love classical music, musical theatre (of course), Loving Fleetwood Mac at the moment.
Favourite food?
Roast beef dinner, there has to be yorkshire puddings involved though.
Favourite line from any show?
Stephen Sondheim's lyrics cannot be beaten. Two lyrics in the song stay with me from Into The Woods, it's a song about a mother teaching her child the dangers of the world when she is eager to explore it, I feel that children are growing up too quickly nowadays. The lyrics are "Princes wait there in the world it's true, Princes yes but wolves and humans too, stay with me" "Stay with me the world is dark and wild, stay a child while you can be a child, with me."
What was your favourite role?
I loved playing Aslan in the world premiere of The Lion The Witch and The Wardrobe. I had an amazing costume, and the music was beautiful, written by Stephen Luke Walker.
What role would you really love to play?
Valjean is the dream, getting closer to getting it.  Each year I audition for Les Mis, so I hope I'll get it one day, Still a bit young at moment.
What was your first role?
Jean Valjean in the school edition of Les Mis at the York Grand Opera House 8 years ago now.
If you could be anyone else for the day, who would it be?
A Casting Director, if you know what happens in their head you are onto a winner.
If you weren't a brilliant singer what would you be?
I'd love to be an architect. I am awestruck by architecture especially in London, old and new, I find it exciting that Londons skyline is completely transforming, lots of new skyscrapers.
What advice would you give 16 year old Alistair?
When you get a good job save money for when you don't have a good job.
What was the last stage show you saw and really enjoyed?
I saw Memphis recently and I loved it! Great performances, great music and and all round amazing cast, got an invite to press night party as well which is always a bonus.
What are the nicest/weirdest things you have ever received from fans?
I have a lovely fan called Karen and she would bring me a single red rose and chocolate every time she came to see the show. She is a lovely lady.
How did you get involved with The Three Phantoms?
Earl Carpenter and Anthony Gabrielle asked me to do it! It was an amazing surprise. I am very grateful to both of them for the opportunity I learned so much from them, and the rest of the cast.
Have you considered doing a play or straight acting with no singing?
I would love to. I love cinema and it would be nice to do a film and get to go to the Oscars. But I did straight acting at school. I couldn't sing whilst my voice was breaking.
What made you decide to be a performer?
I love performing so much. At the end of a performance there is no better feeling than knowing you have entertained people. I think a lot of people in the business forget it's just about entertaining the audience but that's why I was inspired to do it.
Will you be producing a CD of your songs?
There's nothing planned in terms of doing a recording at all. I don't really like working in a recording studio I prefer singing as a character in a musical.
Can you tell us what you will be up to next?
I am waiting to hear on a few things but nothing is coming up for definite yet.