Southampton Mayflower – until 29th January 2023
Reviewed by Lucy Hitchcock
5*****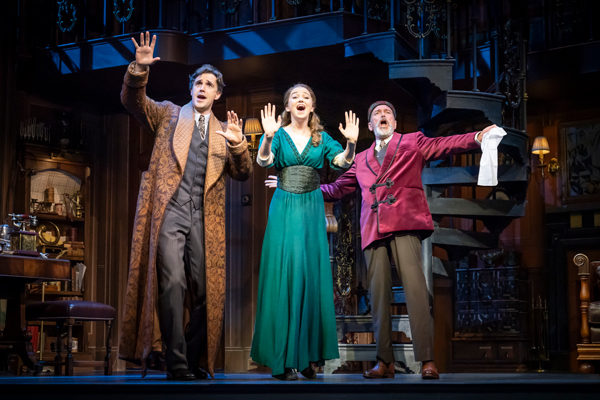 A multi award winning show, from the direction in Bartlett Sher has come to Southampton and you would be a fool to miss it!!
Charlotte Kennedy as Eliza Doolittle is outstanding. Her incredible depiction of the well loved role is excitingly fresh-with clever quick wit and a voice to knock your socks off, she never misses a single beat. Her character arc is so clearly laid out, that you can physically feel yourself willing her to adapt and get her vowels right. In the presence of Henry Higgins (Michael D Xavier) this is a perfect duo. The 2 are encapsulating, bouncing off of each other like magnets and are able to change the tone In The theatre with a single look. At some points, you could hear a pin drop as the audience were in anticipation. Xavier has an enthralling voice, which, when mirrored with his impeccable comic timing and fantastic facial expressions, creates a wonderful show. Adam Woodyatt and John Middleton also join the cast as Eliza's father, Alfred, and Colonel Pickering respectively. These two were perfectly cast, with Middleton being the perfect gentleman and Woodyatt embodying the perfect drunkard! During the song 'Get me to the Church on Time' we really saw the extent of Woodyatt's talent, as he commanded the stage with ease-and a smashing voice. Lesley Garrett, as Mrs Pearce, was the perfect 'housemaid' type character. Her stunning vocals were a joy to listen to and she was a sterling member of this cast. Every single member of the company should be proud, as the show could not run with any of them. 
Micheal Yeargen's sets were unfalteringly breathtaking. It felt as though the stage had been picked up from London it was that impressive. When we first saw the office of Professor Higgins, I could not believe my eyes-my jaw was dropped. The sets are magnificent and it was a privilege to see the intricacies and opulence shown. At some points, I didn't even notice the scene changes-it was that slick and well rehearsed. I was in awe. Catherine Zuber's costumes were also exquisite-perfectly placed and each costume told a story-a feast for the eyes.
This astounding production of Lerner and Loewe's phenomenal show will excite and enthrall you. With its stupendous cast and visually tantalising set, this truly is "loverly"