Theatre on the Steps, Bridgnorth – Saturday 5 November 2022
Reviewed by Nadia Dodd
5*****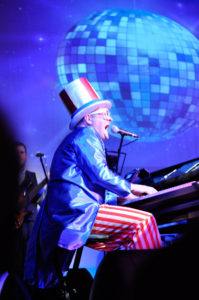 In the quaint venue of this theatre tonight's performance got the audience up dancing in the aisles on a chilly, foggy Guy Fawkes Night.
The band is led by award winning film composer Phil Mountford who has been travelling the country sharing his talent as the enigmatic Elton John since 2018. Phil plays the piano plus lead vocals and really looks the part with quite a few different outfits throughout the show, all bold, bright, plus sparkles and glitter. The band is made up of a few family members, daughter Zoe, percussion and sensational backing vocals and son Josh, on keyboard and a truly mesmerising electric cello performance.
The theatre was full and there were a few avid Forever Elton fans who started off the dancing when the classics such as Crocodile Rock, Saturday Night's Alright for Fighting and I'm Still Standing were belted out from the stage.
Don't Go Breaking My Heart was sung as a duet with daughter Zoe and what a duo they make. Son Josh played the electric cello whilst Phil sang The Last Song, just the two of them on the stage, subtle lighting, they created such a tender atmosphere.
Phil was born in 1970 and studied the electric guitar and performed on many a stage across the Midlands. Once he had graduated in Computer Science he became a software engineer but also continued to perform keyboard and as a vocalist. His passion led to writing music for short films, which then led to composing for feature films, theatre, adverts and television.
Further performances led to him being a musical director for a charity rock concert in 2018 where he returned as a vocalist on stage. The success of this led to his 6 piece band being created 'Forever Elton'. Playing homage to the music by Sir Elton John and Bernie Taupin. The band are now touring theatres and venues throughout the UK and also internationally.
Phil has a great relationship with his audience leaving them wanting more when he was approaching the end of the show, of course he came back onto stage and gave them what they wanted.
Music has a healing power and has the ability to take people out of themselves for a few hours. A quote by Sir Elton John, and Phil as Forever Elton lived out this quote tonight. For further information on the band, including hiring them at your event, venue or festival please visit www.foreverelton.com