MAYFLOWER THEATRE AND MAST MAYFLOWER STUDIOS ANNOUNCE A NEW PUBLIC AWARENESS CAMPAIGN FOCUSSING ON AUDIENCE BEHAVIOUR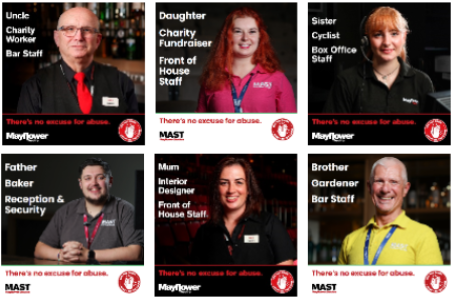 SEE THE SHOW, DON'T BE THE SHOW – THERE'S NO EXCUSE FOR ABUSE
Southampton's Mayflower Theatre and MAST Mayflower Studios are pleased to announce the launch of a brand-new public awareness campaign, aimed at encouraging kind and respectful audience behaviour towards theatre staff from patrons. A series of posters and digital screens around both venues will picture individual friendly and dedicated team members, with reminders of appropriate behaviour, with a personal touch.
Michael Ockwell, Chief Executive and Creative Director explains, "The idea for this new campaign came after observing reports of audience behaviour issues in other venues across the country – from customers causing show stops, assaulting Front of House staff and creating the need for police attendance. We asked for the views of our colleagues from across the organisation, including Front of House staff, artistic and executive leadership, and our marketing team, as it is important that our team feel safe in their job.
Whilst we are fortunate in Southampton to see very few of these issues on a regular basis, we decided to reinforce our dedication to our staff by reminding our customers of the friendly faces of our organisation, what they do, and most importantly, that they're human and doing their best to ensure that everyone has the most enjoyable experience possible."
Tasha Finch, Head of Customer Operations added, "We wanted to be proactive with this campaign knowing that customer behaviour not only within our industry, but in all walks of life is getting more and more challenging. It was important for both of our venues to involve our staff, so they are represented in this campaign – these are real people on our front line. We have had so much positive feedback from our teams with this initiative and the messaging in the campaign is to enjoy your visit to our venues but be considerate and kind to the people who are there to help you."
In addition to the venue signage, patrons will receive pre-visit emails with further reminders, and the campaign will also feature prominently on the theatres' websites.