A FIRST LOOK AT PRODUCTION IMAGES OF ROBIN HOOD: THE ROCK 'N' ROLL PANTO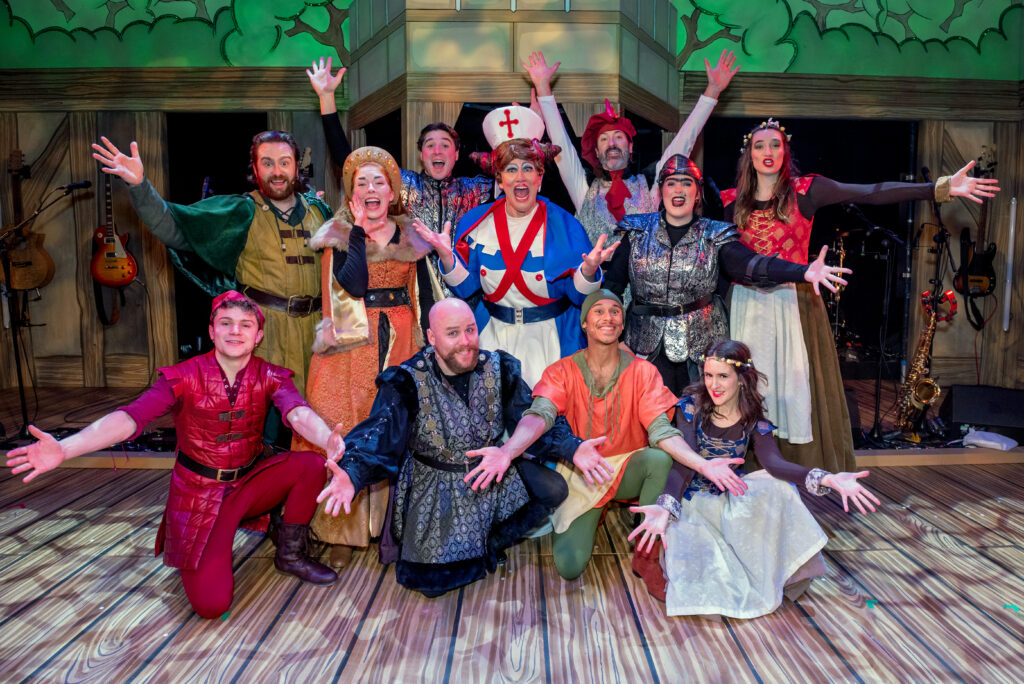 Leeds' favourite Panto – Robin Hood: The Rock 'n' Roll Pantomime – opened with a well-timed comedic crash, bang, and wallop on Fri 24 November 2023. It runs at City Varieties Music Hall until Sun 7 January 2024.
A very different format to the traditional Christmas pantomime, Rock 'n' Roll Pantos – from the enchanted pen of Peter Rowe – mixtraditional elements of audience participation and corny gags with a jukebox full of classic rock anthems and chart-toppers, all performed live on stage by an ultra-talented cast of actor-musicians. 'Where else can you see the Fairy Godmother banging the drums and Pantomime Dame playing the sax?' (Fairy Powered Productions).
Kenny Davies returns in what will be his 12th panto at City Varieties, alongside the legendary Simon Nock who is ready to rock the Varieties stage once again as our fabulous Dame.
Joining them will be a mixture of returning favourites and brilliant newcomers including Lana Walker as Portcullis, Samuel Pope as Robin Hood, Lucy Keirl as Maid Marion, Guy Freeman as Numbskull, Hannah Baker as Rowena, Louisa Beadel as Regina, Finn Torkington as Blondel/Will, Kemi Clarke as Much and Dan Carter Hope as Little John.
'It stands out a mile from stereotypical pantos thanks to its talented team and, tucked away in the City Varieties Music Hall, it couldn't have found a more perfect home for a laugh-out-loud panto with musical performances that will take your breath away.'
One Play More.