Charing Cross Theatre – until 18 November 2023
Reviewed by Claire Roderick
3***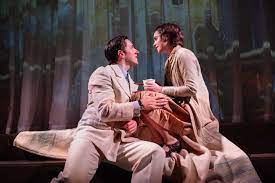 The English language premiere of the international hit based on Daphne Du Maurier's evocative novel doesn't quite reach Hitchcockian heights.
The show opens with the wonderful Lauren Jones singing the most affecting and understated number of the show, "Last night I dreamt of Manderley" before the action begins in Monte Carlo. It is 1927 and the timid unnamed character is being trained as a companion and meets the suave widower Maxim de Winter (Richard Carson). A whirlwind romance ensues (blink and you'll miss it) before they marry and he takes her to his ancestral home in Cornwall, Manderley. The second Mrs de Winter is a great disappointment to the staff, especially housekeeper Mrs Danvers (Kara Lane) who runs the house according to her beloved Rebecca's standards. The ghost of Rebecca, the first Mrs de Winter looms large as everyone talks of her beauty and charm which they judge the unassuming new wife can't match. Mrs Danvers campaign against Maxim's new wife ramps up as she plays on her insecurities and the oppressive nature of the house takes its toll. The mystery surrounding Rebecca's death is revealed and on learning of the true nature of Maxim's relationship with Rebecca, the new Mrs de Winter finds her confidence and shows spirit as she grows in confidence and refuses to buckle under Mrs Danvers' influence as she supports her husband in his hour of need.
Sylvester Levay's music and orchestrations are lush and ambitious. Having never seen Michael Kunze's German language version I can't comment, but Christopher Hampton's English translation is unfortunately clunky and overblown at times. The choices to sing through some parts of conversations and talk through others is slightly baffling, and the numbers that are obviously deemed IMPORTANT could do with having a few choruses trimmed. Richard Carson does his utmost in his confessional "I'll never forget her smile", but there is so much thrown stylistically into that song that it is hard to care about a pivotal revelation. I found it disappointing that the writers went with Hitchcock's version of Rebecca's death rather than Du Maurier's original, as Maxim's actions and his wife's decision to stand by him are much more questionable and interesting in the original version, but the choice fitted in with this melodramatic show.
Director Alejandro Bonatto keeps the action moving amidst some awkward scene changes on a set that never seems to quite match the lofty ambitions of the show. Perhaps on a larger stage and with a bigger budget the vision could be achieved. There is some atmospheric projections and lighting that impress, but soon become overused and lose impact. The expositional numbers from the staff at Manderley are fun, and the shipwreck scene is wonderfully staged. With the cast entering from the auditorium at certain points, I can understand the choice to have the cast running everywhere when Manderley burns, but the scene becomes unwittingly comical rather than dramatic, somewhat dampening the tension. Jones and Carson have gorgeous voices and try their best to make the underwritten characters memorable, while Kara Lane channels her inner Morticia as the increasingly unhinged Mrs Danvers. Lane is delightfully creepy and imposing and nails the title song with killer vocals. Unfortunately, that song is used a little too much as a marker of Mrs D's obsessive devotion and loses its power.
There are the makings of a wonderfully dark and atmospheric production in this material – some judicial trimming and enhancing the writing of the de Winters would help. As it stands, Rebecca is a worthy attempt with soaring music and a fine cast.