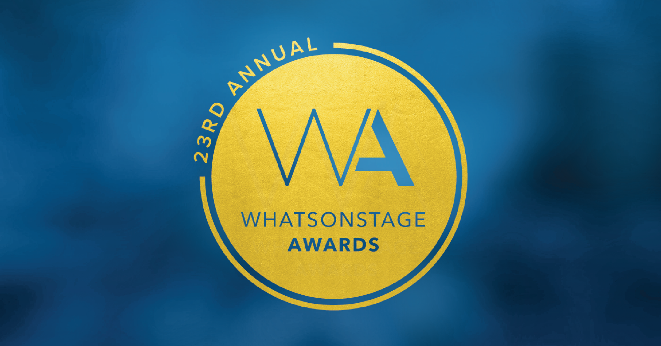 WHATSONSTAGE AWARDS RETURN FOR THEIR 23RD YEAR WITH THE CEREMONY TAKING PLACE ON SUNDAY 12 FEBRUARY
WhatsOnStage today announces that the 23rd Annual WhatsOnStage Awards will take place on Sunday 12 February 2023, at a West End theatre to be announced. As well as seeing the winners crowned across a range of categories, theatregoers will also enjoy a host of exclusive live performances from top stage talent. The event is co-produced with creative directors Alex Parker and Damian Sandys.
Now in their 23rd year, the WhatsOnStage Awards are the only major theatre awards decided by the theatregoers themselves.
Nominations are now open and will close on Wednesday 23 November 2022 ahead of the shortlist being announced on Thursday 8 December 2022. Voting will then open at the same time, closing on Tuesday 10 January 2023, with the winners being announced at the ceremony on Sunday 12 February 2023.
This year, the performance categories will be gender-free and, for each of the following, readers will be able to nominate and vote for one individual:
Best Performer in a Play
Best Performer in a Musical
Best Supporting Performer in a Play
Best Supporting Performer in a Musical
The shortlist for the technical categories (Choreography, Costume Design, Direction, Graphic Design, Lighting Design, Musical Direction/Supervision, Set Design, Sound Design, Casting Direction and Video Design) will be once again decided by an independent panel of industry experts from across the UK appointed by WhatsOnStage. Their shortlists will then be voted on by the general public.
Additional and returning categories include Best Takeover Performance, Best Professional Debut, Best Casting Direction, and Best Concert Event, taking the total number of categories to 24.
WhatsOnStage's Sarah Coleman said today: "It's been an utter joy to witness theatre bounce back revitalised and undeterred, and we can't wait to celebrate the wealth of incredible talent on our stages at the next WhatsOnStage Awards. With our Awards we always seek to keep the nominations process fresh with changes to our categories, reflecting the changes within our community. And as ever, we want to say a special thank you to the voting public, the people who keep our industry alive."
Twitter @WhatsOnStage #WOSAwards
Instagram @WhatsOnStage