Southampton Mayflower – until Saturday 20 August 2022
Reviewed by Alexandra Browning
4****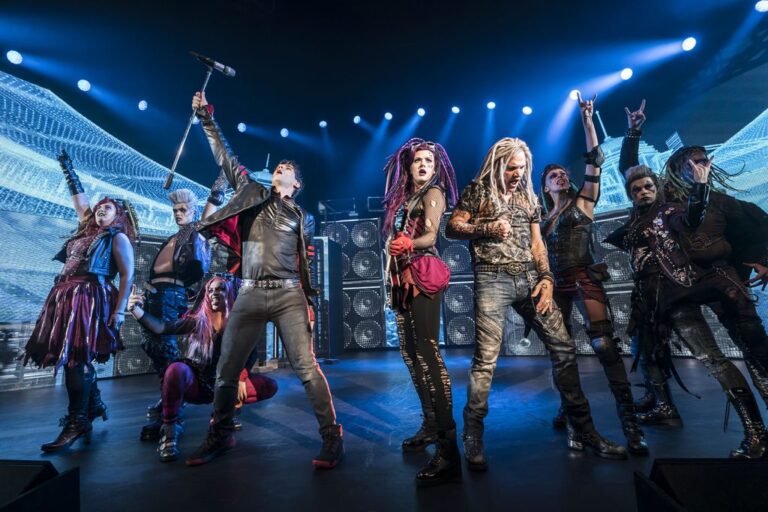 'We Will Rock You' The Musical is a unique take on an eclectic mix of Queen's top hits that will make you go GaGa.
As the curtains lift you are transported to a futuristic land where the evil Killer Queen (Jennifer O'Leary) rules over a controlled society. She is a mix of AI and person hellbent on creating the perfect dictatorship of music on the IPlanet. Gaga school graduates are all formed to be one and the same and two alternative students are sent to be processed, after wanting to "Break Free" Galileo (Damien Walsh**), and the soon to be named Scaramouche (Elena Skye) go on a discovery journey and bump into the Bohemians.
Leading the medley of Bohemians is Cliff Richard (Michael Mckell) with help and support from Meat Loaf (Martina Ciabatti Mennell). Meat Loaf steals the show with several of Queens biggest hits and a bold and powerful voice, she single handedly encouraged the biggest round of applause. With their Harley Davison in till they travel, the seven seas of Rhye, to the wonders of Wembley Stadium, with nothing but the vibes and the dreamer they manage to conjure up the last- ever- musical- instrument!!!
During a mega boss battle Galileo and Scaramouche defeat the Killer Queen and lock her away for good. The battle features all their strong voices and makes for a fantastic rendition of "We Will Rock You", swiftly changing to "We are the Champions" to mark their victories.
The show has an excellent mix of Rock and Roll costumes to a more Steampunk vibe for the Killer Queen ensemble. The set is inspired by a futuristic planet with remnants of the world as it currently is and was, including a vee-dio tappe (video tape) with clips of the sacred Bohemian Rhapsody. Special mentions go to both Meat Loaf, Mennell, and Killer Queen, O'Leary as they had incredibly strong voices and captured the audience during both of their solo stage moments.
The encore of Bohemian Rhapsody leave the audience to join in for the last number singing the cult classic as an entire venue. Overall it's a great show that leaves you humming Queen tracks all the way home.
**Also played at alternative shows by Ian Macintosh