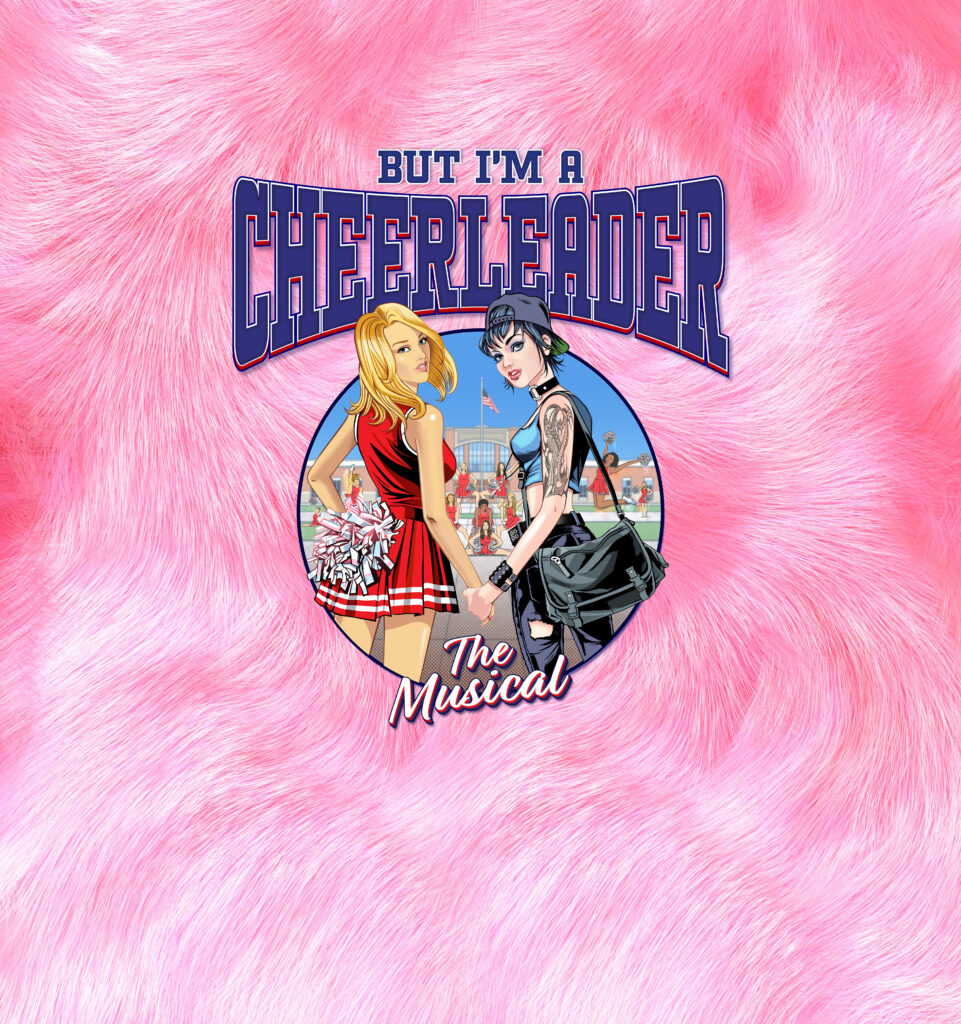 PRESENTING THE FIRST FULLY COMMISSIONED MUSICAL
DISCOVERED AT MTFestUK 2019
BUT I'M A CHEERLEADER: THE MUSICAL
WITH BOOK & LYRICS BY BILL AUGUSTIN
AND MUSIC BY ANDREW ABRAMS
RUNNING AT THE TURBINE THEATRE
FROM 18 FEBRUARY – 16 APRIL 2022
Paul Taylor-Mills & Bill Kenwright, in association with Adam Bialow, by special arrangement with LIONSGATE® present But I'm A Cheerleader: The Musical, based on the LIONSGATE® motion picture, directed and story by Jamie Babbit and screenplay by Brian Wayne Peterson. First presented as part of MTFestUK 2019, this will be the first fully commissioned musical discovered at the new musical festival, to be presented on stage.
But I'm A Cheerleader: The Musical, has book and lyrics by Bill Augustin, music by Andrew Abrams, direction by Tania Azevedo, choreography by Alexzandra Sarmiento and lighting by Martha Godfrey, and will run at The Turbine Theatre from 18 February – 16 April, with press night on 23 February 2022. The musical follows MTFestUK 2022, which runs at the Turbine until 12 February 2022
But I'm A Cheerleader: The Musical is the story of Megan, an all-American high school cheerleader who has the perfect life.
That is, until she finds out her friends and family suspect her of being a lesbian and send her packing to 'True Directions,' a rehabilitation camp to set her straight. It is at this camp, under the strict tutelage of headmistress Mary Brown that Megan meets Graham, a sexy tomboy who shows her exactly what her 'true direction' is. Hilarious, irreverent and full of heart, But I'm A Cheerleader: The Musical is a quirky coming-of-age comedy about sexual awakening and self-realization.
Paul Taylor-Mills (Artistic Director, The Turbine Theatre) said,"The premiere of But, I'm a Cheerleader at The Turbine Theatre is special for many reasons. Firstly, it is the first fully produced musical that I will stage that started life at our first MTFestUK 3 years ago. This is our annual festival that shines the spotlight on the development and creation of musicals. Secondly, it will also be the first brand-new musical to premiere at The Turbine which was always our driving ambition at the theatre.
The musical explores themes around conversion therapy and coming out and the complications some teenagers face trying to be their authentic selves. Conversion therapy is still legal in the UK and most of America and is very much still in play. This important work feels absolutely in line with the type of stories that we want to tell at The Turbine and I couldn't be prouder that we are able to present this as our first musical of 2022. I'm delighted to welcome Tania Azevedo and Alexzandra Sarmiento to the project to bring this important story to life."
Tania Azevedo (Director) said, "I am thrilled to be working on the musical adaptation of this LGBTQ+ Cult Classic. I think it's crucial for our community to see ourselves in pieces of theatre that are comedic, that celebrate Queer joy and "But I'm a Cheerleader" is exactly that."
Adam Bialow (Producer)said,"We're honoured that But I'm a Cheerleader: The Musical is the first fully commissioned musical to come out of MTFEST and are extremely thrilled to collaborate with Paul Taylor-Mills as the musical takes its next steps. In light of the subject matter – conversion therapy- being debated in both the United Kingdom and United States, I believe that this story is more necessary and sadly more relevant than ever. The writers have further developed the characters from the original motion picture, making them more accessible to a wider audience without detracting from their true essence in a way that is both entertaining and transformative in the process."
In celebration of the 20th Anniversary of the motion picture, LIONSGATE® has released But I'm a Cheerleader: Director's Cut with special features that include never before seen deleted scenes, an audio commentary, Jamie Babbit's student film Discharge, and three new featurettes, including the "But I'm a Cheerleader Class Reunion" reuniting the cast for the first time in 20 years. The motion picture cast included RuPaul Charles, Clea DuVall, Natasha Lyonne, Cathy Moriarty and Michelle Williams. The Director's Cut is available on Blu Ray and video on demand for rent or purchase (UK rating of 15 and US rating of Not Rated).
Bill Augustin (Book & Lyrics) lives in New York City where he attended NYU and the BMI Musical Theatre Workshop. He met Andrew Abrams at BMI where they developed Cheerleader, which went on to be part of the ASCAP Musical Theatre Workshop and NY Musical Theatre Festival. Bill produced the award-winning short documentary "Marie's Crisis", about NYC's legendary piano bar, which is currently being developed into a feature length doc. Other projects in various stages of development include the screenplays Gay WingMan and Ghostlight and pilot Living History (written with PJ Griffith) and the plays X / Y and The Wrong Son.
Andrew Abrams (Music) received his Master of Arts in Musical Theatre Writing from Goldsmiths-University of London in 2012 and is a graduate of the Advanced BMI Musical Theater Writing workshop in NYC. Some of his musicals include Some Snap, Delilah, The Death and Life of Mary Shelley and numerous standalone songs. He has also worked in London, Off-Broadway, regionally and on tour in the U.S. as a professional musical director, director, conductor, and Equity actor. He currently serves as Artistic Director of Capital City Theatre, an Equity Theatre Company in Madison, WI.
Tania Azevedo (Director) is a theatre maker, director and dramaturg who graduated from Mountview Academy of Theatre Arts, the King's Head Theatre and Royal Opera House's Opera Directors Training Programme led by Katie Mitchell. She received an Off-West-End Award nomination for Best Director for the London run and international tour of the new musical Paper Hearts and recently was Assistant Director on Heathers the Musical for the West End and on tour. She specialises in development of new work and has been part of the UK's leading New Musical Theatre festivals, including BEAM, From Page to Stage and MTFest.
Adam Bialow (Producer) Producer and Lionsgate Consultant, is a consultant for United Kingdom and United States entertainment companies and previously held executive positions with Lionsgate and Shine International, the sales and distribution arm of Shine Group, known for such programs as MasterChef and The Biggest Loser, (previously a 21st Century Fox company), in the areas of theatrical stage productions and business and legal affairs. His consulting for Lionsgate in the area of theatrical stage productions previously included Dirty Dancing – The Classic Story on Stage (West End, North American and U.K. Tours and other productions worldwide). Since 2015, Adam has also been an Executive Producer of the British Academy Britannia Awards telecast and since 2015, he has also been a member-elected Board Member, Board of Directors, British Academy of Film and Television Arts, Los Angeles.
Alexzandra Sarmiento (Choreographer) is a trailblazing performer/choreographer originally from New York City. Known for her association with the Drew McOnie Company and for her role as dance captain in the original London cast of Hamilton. She has appeared on stage in Jekyll and Hyde (The Old Vic); as dance captain for Strictly Ballroom (Princess of Wales Theatre); and the Olivier Award-winning production of In The Heights (King's Cross Theatre). More recently, Alexzandra can be seen in the feature films Everybody Is Talking About Jamie (20th Century Fox) and Cinderella (SONY Pictures).
LIONSGATE® (Producer) Combining the STARZ premium global subscription platform with world-class motion picture and television studio operations, Lionsgate (NYSE: LGF.A, LGF.B) brings a unique and varied portfolio of entertainment to consumers around the world. Its film, television, subscription and location-based entertainment businesses are backed by a 17,000-title library and the largest collection of film and television franchises in the independent media space. A digital age company driven by its entrepreneurial culture and commitment to innovation, the Lionsgate brand is synonymous with bold, original, relatable entertainment for the audiences it serves worldwide. www.Lionsgate.com
Paul Taylor-Mills is the Artistic Director of both The Other Palace Theatre and The Turbine Theatre at The Battersea Power Station, London. He has worked as Advisory Producer to Andrew Lloyd Webber and The Really Useful Group.
Recent credits include: At the Turbine Theatre – My Night with Reg, My Son's A Queer, But What Can You Do, MTFestUK 2021, Cinderella: The Socially Distanced Ball, Hair (part of the Turbine on the Jetty Season), Torch Song, High Fidelity and Cat In The Hat.
Elsewhere, Heathers the Musical at the Theatre Royal Haymarket and The Other Palace (winner of the WhatsOnStage Best New Musical Award) and currently on national tour, Murder For Two at the Watermill Theatre and The Other Palace, The Wild Party at The Other Palace, European Premiere of Disney's Peter and the Starcatcher at the Royal & Derngate, Northampton, Side Show at Southwark Playhouse, The Last Five Years at the St. James Theatre (winner of the WhatsOnStage Award for Best Off-West End Production) End of The Rainbow on UK Tour, In The Heights at Kings Cross Theatre and Southwark Playhouse (winner of three Olivier Awards), Casa Valentina at Southwark Playhouse, Carrie The Musical at Southwark Playhouse (winner of The WhatsOnStage Off West End Award), and Associate Producer on The Importance of Being Earnest starring David Suchet on UK Tour and the Vaudeville Theatre.
THE TURBINE THEATRE
GENERATING NEW WORK. POWERING PREMIERES. RE-ENERGISING CLASSICS.
The Turbine Theatre is a brand-new theatre on the banks of the Thames next to the iconic Battersea Power Station, presented by Bill Kenwright and founded and led by Artistic Director Paul Taylor-Mills.The theatre is located under the Grosvenor Bridge railway arches at Circus West Village, the first chapter of the iconic Battersea Power Station's regeneration, which is already a thriving riverside destination with exciting restaurants, bars and cafés already open, located at the foot of the iconic Grade II* listed landmark.
The Turbine Theatreis an intimate theatre with big ambitions. Everything we do revolves around one simple idea: powering the imagination.
New energy drives everything we do, from festivals of brand-new works, world premieres of new productions and classic stories reimagined for contemporary audiences.
Every story is a journey andThe Turbine Theatreaims to be just the first stage for every idea, risk and labour of love that is brought to life in this electric new environment. We want to be the spark for the most talented and diverse voices that theatre has to offer.
We're also passionate about playing a vital role at the heart of the emerging local Battersea community, offering a dynamic public space by day, and a ground-breaking theatre by night.
LISTINGS
BUT I'M A CHEERLEADER: THE MUSICAL
THE TURBINE THEATRE
18 FEBRUARY – 16 APRIL 2022
PRESS NIGHT – 23 FEBRUARY 2022
The Turbine Theatre:
Address: The Turbine Theatre, Arches Lane, Circus West Village, London, SW11 8AB
Performances: Tues – Sat at 7.30pm, Sat at 3pm and Sunday at 4pm
Website: TheTurbineTheatre.com
Twitter:
@Fest_MT
@TurbineTheatre
#MTFestUK
#PoweringTheImagination