Grand Opera House York – 26th October 2022
Reviewed by Michelle Richardson
4****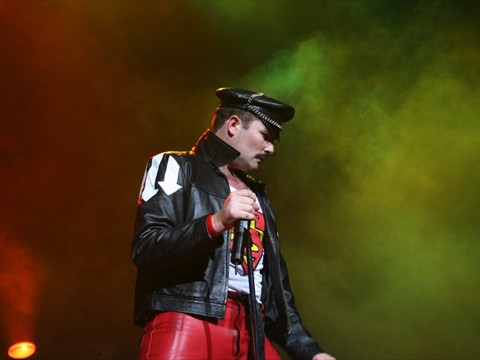 It was great to see the Grand Opera House York busy midweek, with what looked like a packed-out theatre. The crowd were eagerly awaiting to celebrate the music of one of the greatest bands ever, the fabulous Queen and its frontman Freddie Mercury. Mercury are well established, with over 20 years of touring as a tribute band.
You can feel the anticipation in the audience as the lights dim and the oh so familiar sound of Queen is heard in the shadows, an introduction to what is to come. The band members enter the stage, calmly take up their positions, before Freddie (Joseph Lee Jackson) bounds onto the stage, with Seven Seas of Rye, to loud cheers.
Straight from the off Jackson has Freddie's mannerisms and characteristics spot on. Oh, so confident, strutting his stuff, truly encapsulating the spirit of Freddie. His voice when speaking to us, sounded just like Freddie as well, I was hugely impressed that he had mastered his craft so well. Glenn Scrimshaw, as Brian May, is a skilled guitarist, which was emphasized with a couple of solo pieces. I must also mention Lee Harvey on keyboard and vocals. He was terrific and has such enthusiasm, it was infectious and glorious to watch. The entire band delivered a slick and engaging performance.
All the great hits were played, if I'm truly honest some better than others, but as the show progressed, they got better and better. I for one, could not help but sing along to the wonderful tunes, make sure you wear earplugs if you ever find yourself sitting next to me. The song list was pretty comprehensive with Bohemian Rhapsody, Fat Bottomed Girls, We Are The Champions, Radio Ga Ga, We Will Rock You, and many, many more. A feast of Queen songs, that any fan would love to hear.
The costumes were what you would expect from the flamboyant Freddie, white trousers, Adidas trainers, jackets. Jackson's costume for I Want To Break Free, is a sight to behold, an exaggeration on the original, and he can sure move a hoover around on stage. Mustn't forget the Union flag and right at the end of the show, the iconic cape and crown, the icing on the cake. This show has pyrotechnics and loud bangs throughout that had me jumping in my seat, which only added to the experience.
Queen is still a legendary band to this day and Mercury do them justice. I have seen Queen live, but with Adam Lambert at the helm, and I must say they were brilliant, best concert I have ever been to. How great it would have been to see Freddie on stage and I'm envious of anyone who was lucky enough to have had that pleasure.
This tribute show is a celebration of the magic of Queen and appeals to all. There were all generations in the audience, a family in front on me had a very excited young son, parents and grandparents, all savouring the amazing music that is Queen.