Grand Opera House York – until Saturday 2nd April 2022
Reviewed by Michelle Richardson
3***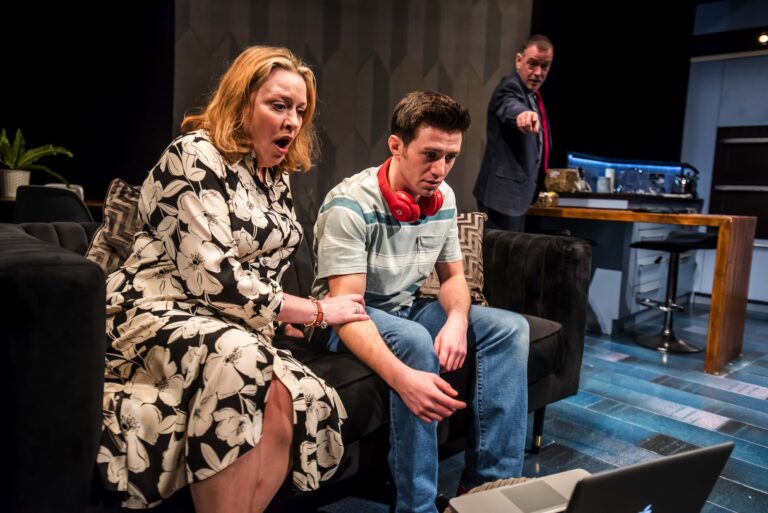 Looking Good Dead, a Peter James novel, has been adapted for the stage by Shaun McKenna. James is the UK's number one best selling author of crime and thrillers.
The first scene sees a woman, in what appears to be a dungeon room with a chair and chains on the wall. She takes off her coat to reveal a leather outfit, that with the chains certainly implies S&M is at play here. A hooded figure, all dressed in black, joins her, but things take a sinister turn, and the mystery starts.
Tom Bryce (Adam Woodyatt, most famous for playing Ian Beale in Eastenders) is a businessman, on the cusp of failure. He's married to Kellie (Laurie Brett, who just so happened to play Ian's wife in Eastenders), a former alcoholic who likes to spend, A LOT, and is constantly cleaning. They have a son Max (for this performance played by Mylo McDonald), who is forever playing computer games, wears noise cancelling headphones, so he doesn't have to hear his parents arguing. He has an older half-brother who has managed to leave home and is now travelling the world.
On his way home on the train, Tom finds a USB memory stick. Instead of handing it in he brings it back home to see if he can find out who it belongs to. With the help of his tech savvy son, he looks to see what information is on the drive. It's shocking, as before their eyes they are witness to a woman's murder, it's a snuff movie. After the police are involved, DSI Grace (Harry Long), DS Branson (Leon Stewart) and DS Moy (Gemma Stroyan), their lives are in grave danger.
At times I couldn't get the scenes between the officers in their station, it was a bit disjointed and didn't flow naturally. There were still some funny interactions between Grace and Branson and did make us laugh, overall I felt these scenes needed more substance for the actors to show their craft.
Woodyatt and Brett are obviously used to working together, in fact he even referred to her a Jane at the very start, a minor and understandable slip, and came across as a dysfunctional married couple, not quite gelling together. McDonald as the son had the right mannerisms for a stroppy teenager, though his character was maybe about 20, but looked older.
The set is multi-level, with the Bryce's lounge on the stage, a police set sliding on an off the right of the stage and the dungeon room at the back, elevated above. The latter is hidden behind a curtain when not in play, only becoming visible with lighting when needed, this was very clever and hugely effective.
Talking about this afterwards, we decided it would make a great film, as the characters could be developed more, and you could better understand the dynamics. I have since found out there has been a television series created around Detective Superintendent Grace and I will certainly look out for that.
Even with the dramatic opening, and shocking revelation at the end that had us all gasping, Looking Good Dead doesn't have quite enough tension to make it an on the edge of your seats thriller, but it is still an entertaining mystery, worthy of a watch.