Leeds Grand Theatre – until Saturday 10 December 2022
5*****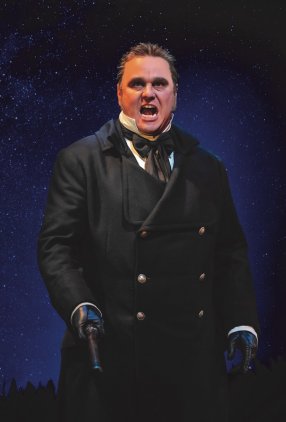 My husband has never seen Les Mis before (and due to the World Cup, nearly didn't make it this time either!), at the end I asked if he would see it again. He replied that he had seen it once and he didn't need to see it again. His reply was met by a sea of incredulous faces, all disagreeing with him. And it is that reaction that shows why it is such a well loved show, with such longevity and adoring fans and why my husband was in the minority.
The huge juggernaut Les Misérables has finally arrived in Leeds as part of its UK tour. And it was wonderful.
Jean Valjean, Prisoner 24601, stole a loaf of bread and spent 19 years in jail, under the watchful eye of Javert. After his release Valjean is treated with contempt when he looks for works and lodgings, moving from place to place. After getting caught stealing a silver plate from the Bishop of Digne, he vows to become a better man when the Bishop gives him some silver candlesticks, telling the police he wasn't stealing, it was all a gift.
The struggle between the former convict Jean Valjean and the pursuing policeman Javert is a very real and dramatic one. Dean Chisnell shines as the thief with a heart, Jean Valjean, with Nic Greenshields breathtaking as Javert. If you go for nothing else, it's worth the three hours just to hear Greenshields spine-tingling version of Stars (although Chisnells Bring Him Home was a standout moment too). Lauren Drew as Fantine and Jenna Innes (covering for Sobhan O'Driscoll) as Eponine gave heartbreakingly powerful performances. Drew's version of Come to Me was high on emotion, as was Innes' A Little Fall of Rain. And the Thénardier's (Ian Hughes and Helen Walsh) provide the comedy moments with a sublime rendition of Master of the House.
Of course you must take your tissues with you, watching little Gavroche (Lucas Melrose Steel) die and the heartbreak of drunken Grantaire (Raymond Walsh) is palpable, along with the fall of the Barricades.
The live band lead by Giles Deacon captures Claude-Michel Schönberg's music and the outstanding ensemble gives life to Herbert Kretzmer's lyrics. At the End of the Day and Do You Hear the People Sing? are stunningly performed by the full company, filling the theatre with a superb sound. All thanks to Mick Potter's sound and Geoffrey Garratt's musical staging.
The staging in this production has quick set and fluid changes and some quite brilliant use of projections based upon Victor Hugo's original paintings. Some of these animate to extremely clever effect, especially with sewer work and a key Javert scene.Paule Constable's lighting, Andreane Neofitou and Christine Rowlands costume design and Matt Kinleys set all take their inspiration from these paintings and Finn Ross and 59 Productions should be congratulated for realising the projections.This production was breathtaking. Les Misérables is so well-known and adored everywhere that it is truly hard to make it new or different every time. But with some impressive performances, incredible lighting design and imposing but effective sets, this production makes it feel fresh, full of energy, and very much alive. As the final chorus echoes through the auditorium during the finale you'll find yourself wanting to march on until tomorrow comes.