Day two dawned brightly until the point we wanted to leave the hotel, then it started to pour it down with the special unique fringe festival rain.  We ran the gauntlet of the Royal Mile where only the brave and most determined were flyering and then took refuge in the pub to dry off and warm up.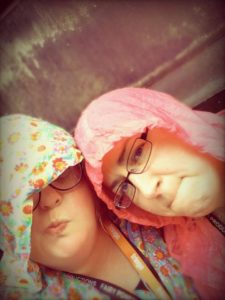 Our first show, of a very many long show day, was downright hilarious and hopefully set the tone for the day with talent and professionalism.  And Tim Vine was in the audience (and laughing) so it must have been good.
We ventured into the Assembly Gardens for food – we are recommending "Pies" from the the Jarvis Pickle Kitchen (www.jarvispickle.com) and we especially recommend the sublime beetroot ketchup.  By now the sun was shining, people were smiling and we got to talk to a lovely man flyering for Time Machine and Austin's Women who showed us some of his amazing art work.
Second show of the day was again a triumph, full of memories of girly nights out, putting the world to rights in what were much simpler times, our 2nd 5* show of the day.
The third show was unfortunately just a 1* show and if we could have escaped like the many around us were doing, then we would.  An hour of our life (was it really just an hour – it seemed so much longer) that we will never get back.
Time to fit in food, and as we dodged the late flyers on the mile we found Gordon's Tratattoria (www.gordonstrattoria.com) where we can certainly recommend the pizza and salad and fabulous service.  We will be visiting there again – the lasagne looked immense.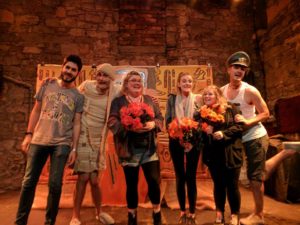 Our spirits raised from the turgid, self indulgent drivel we had recently witnessed, we went off to the 4th show at the Just the Tonic Caves.  Star of this show was Jo, she was dragged up from the audience and ended up with quite a large and important role which saw her marrying an ancient Egyptian mummy.
And then last show of the day, we were tired, we were carolled in to a very long queue and so tight we had to make friends with the people beside us because we were becoming very intimate.  Due to lack of space and air we had a fainter – a sign that you need to schedule in time to eat and drink between shows – Health and Safety fairypowered style.  But the show was worth – it more funny that was human possible without even uttering a word and our last 5* of the day was awarded.
Lets hope Day 3 brings as much fun
Ivan Brackenbury and Friends http://fairypoweredproductions.com/ivan-brackenbury-friends-review/
2 Become 1 http://fairypoweredproductions.com/2-become-1-review-2/
Showstopper! http://fairypoweredproductions.com/showstopper-review/
Four Go Off On One http://fairypoweredproductions.com/four-go-off-one-review/
The Curse of the Mummy http://fairypoweredproductions.com/curse-mummy-review/
Tapeface http://fairypoweredproductions.com/tape-face-review/