Wales Millennium Centre, Cardiff – until 5 February 2022
Reviewed By Rhys Payne
4.5****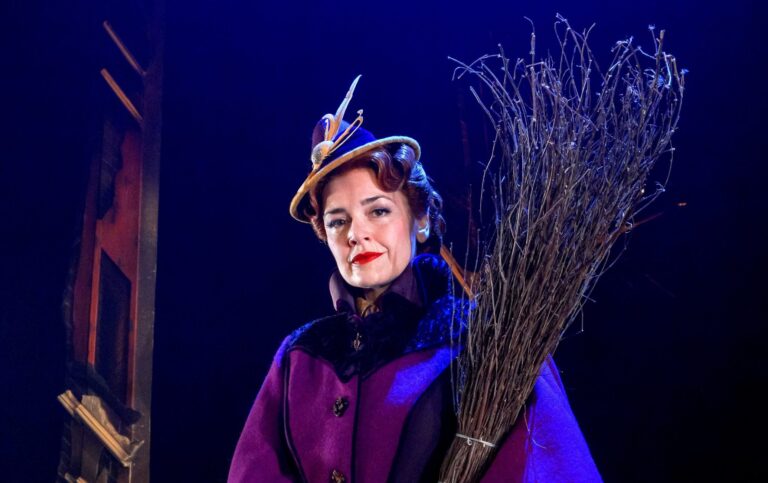 In Wales, we have been placed in a nationwide lock-down since the 26th of December which had meant that all theatres, cinemas and nightclubs have been forced to stay close. Wales Millennium Centre have decided to make up for lost magic by putting on one of the most fantastical musicals I have seen in a very long time! We had humans turning into rabbits, floating beds, talking fish, levitating broomsticks and combat-ready clothing (just to name a few) which created the spectacle that we all needed after the rough two years we have all collectively experienced!
For those who don't know the musical production of "Bedknobs and Broomsticks" is based in the 1971 movie of the same name which starred Dame Angela Lansbury which I have to admit I have not seen before (but I absolutely must now!) The show follows three young children Charlie, Carrie and Paul who are forced to leave their home after it is destroyed by a falling bomb. Due to this narrative plot point, the musical production of this show opens with a rather intense and meticulous sequence depicting this intense loss that contained some of the most intrigue and smooth set/props transitions I have ever seen. The spectacular choreography meant that instead of focusing on the set changes and the actors carrying them out, the focus remained on the story that this section was portraying.
After both parents are killed, they are relocated into the countryside with an eccentric but prestigious Miss Price (played in this production by the wonderful Dianne Pilkington) Rightfully so the young children miss their family and home but after discovering that their new mother figure is a witch in training end up going on magical adventures back in London. Due to her own personal involvement with and losing her family to the war Miss Price searches for a spell that can help win the war but the journey doesn't end up going as smoothly as they are expected!
I really enjoyed the number "A Step in the Right Direction" which was a direct and inspirational song that talks about how mistakes are an important part of developing a skill. After receiving her first broomstick, Miss Price is attempting to learn how to fly on it but this again is very complex. This number is the first point where we see magic performed on stage with the broom flying across the stage which was incredible to watch but also was used as a prop on the numbers dance sequence which was insanely clever! This was not the only bit of stagey magic in the production however as we repetitively see the character travel from location to location on a flying bed frame which again was awe-inspiring every time it happened!
The character of Emelius Browne aka the Magical Emelius Brown (played in this production by the talented Charles Brunton) went through one of the most incredible character arcs I have seen in a very long time. We met this character as he attempts to swindle money off passers-by with his magic tricks which were perfectly conveyed in "With a Flair" which was filled with classic parlour tricks. The balance of spectacle with undertones of deceit is very interesting which I think at some point I would like to have a go at and the fact this role involved physical magic tricks would make this such an interesting role to take on! He reveals that 'the magic school' that Miss Price has been subscribed to way in fact yet another scam. However, as the show progresses this character becomes part of the family which is a testament to Charles physicality and likeability! The song "Portobello Road" is a high energy number which has our lead character exploring a rather sketch market in such for a magic spell book. This was a huge ensemble number with pretty much, everyone, on stage, getting a chance to steal the spotlight but also again contained complex set and prop choreography!
Over the multiple lock-downs, we saw a rise in online theatre and apps. One app that has seen a sudden influx of users during these lock-downs was the video-sharing platform Tik Tok . One person in particular who rose to fame in this app during the lock-down periods was Robert Madge who wonderfully camp childhood videos were shared where they would recreate Disney parades, rides and performances to his parents to often hilarious reactions! Their out of time character performance sound like they should be monotonous but I have to admit every time they upload, they have me in stitches from laughing so much. This increased popularity then led to a series of performances of Rob's original show "My Son's a Queer (But What Can You Do?)" which received fantastic reviews from viewers and critics alike! So when it was announced that Rob would be in a touring production of "Bedknobs and Broomsticks" that would be coming to Wales (after restrictions were lifted of course) I knew I had to grab myself a ticket. Rob is a trained theatre performer who turned to creating comedic videos during the lock-down as the theatres were closed so I was curious to see how their performance skills would translate from screen to stage! It wasn't until "The Beautiful Briny" that we could truly see their incredible performance talent. Rob stood on the stage and performed with and as an extremely cartoon-esque fish who sang about hosting an underwater dance competition. They had everyone laughing throughout with exaggerated facial expressions (both on themselves and the fish!) which was amazing to experience!
I did think that the closing sequence of this musical was very intense for a children's musical where a plethora of animated objects are fighting against soldiers and while the message of magic and family was the key focus it would have been quite unsettling if it had not been for the twist at the end. It was actually very emotionally powerful and had many audience members in tears. The fact that the show had staged this in a way that made perfect sense but also used exact copies of early scenes to show the circular nature of the show was very clever!
Overall this tour of "Bedknobs of Broomsticks" is a wonderful adventure that is crammed full of fantastic effects and magical moments that has come at a time where we as a society need it the most. As it is a Disney production, it is perfect for young children due to the magical elements but a more mature audience will understand and appreciate some of the more intense themes such as losing loved ones and war.