A LITTLE LIFE RELEASES ON STAGE SEATING FOR THE RUNS
AT THE HAROLD PINTER THEATRE AND RICHMOND THEATRE
ALSO ANNOUNCED TODAY A CHARITY GALA PERFORMANCE IN AID OF MIND,
AND A PRODUCTION PARTNERSHIP WITH APPLAUSE FOR THOUGHT
With rehearsals starting today, the producers of A Little Life – Wessex Grove, Gavin Kalin Productions, and Playful Productions – announce that they will release on stage seating across the runs at both Richmond and Harold Pinter Theatres priced at just £25 and £35, meaning over a third of all tickets across the run are £40 or under.
The first wave of seats will be made available on 6 February at midday encompassing the performances across the dates at Richmond, and from 25 March to 30 April at the Harold Pinter Theatre. There will be a further release of on stage seating for performances in May and June on 4 April, again at midday.
For the opportunity to experience the production from the intimacy of the stage, there is a final chance to sign up to receive the special booking link via: www.alittlelifeplay.com. The sign-up list will close on 6 February at 11.30am, ahead of the release at midday.
In addition to the on-stage seating, audiences will also be able to access a limited number of last-minute tickets through a variety of opportunities listed on the website.
CHARITY GALA PERFORMANCE IN AID OF MIND
Also announced today, is a charity gala performance on 30 March in aid of the mental health charity Mind. For further information on Mind: https://www.mind.org.uk/
A LITTLE LIFE PARTNERS WITH APPLAUSE FOR THOUGHT
A Little Life is partnering with Applause for Thought, a multi-award-winning community interest company that aims to create safe, empowering and empathetic spaces for all within the arts. Victoria Abbott will be supporting the company as the Production Wellbeing Practitioner (PWP). This role encompasses weekly in person 1-1 and group support within the development, rehearsal room, performance and post-production phases of a show.
Abbott's role will assist in the appropriate implementation of mental health at work policies and risk assessments, develops resources for members of the audience and front of house teams as well as being an active support for the mental health and wellbeing at work of those both on and off stage. She will work pragmatically and sensitively amidst all the varying themes of the production to aid the creative process and reinforce the resilience of each department and team.
Victoria Abbott is a BACP registered integrative psychotherapist and she began supporting the mental health of those working in creative industries in 2014 when a theatre company asked her for guidance on designing and implementing a mental health at work policy. She has an undergraduate degree in Psychology, a masters in the Psychodynamics of Human Development and a PGDip in Integrative Psychotherapy as well as experience and training as a performer. She has her own thriving private practice where she specialises in burnout, life transition, bereavement and anxiety and is the Support Lead at Applause For Thought.
For further information on Applause for Thought: https://applauseforthought.com/
Producers – Wessex Grove, Gavin Kalin Productions, Playful Productions,
Co-Producers – Creative Partners Productions, Patrick Gracey Productions, ROYO,
Rupert Gavin & Mallory Factor Partnership, and New Frame Productions / David Adkin present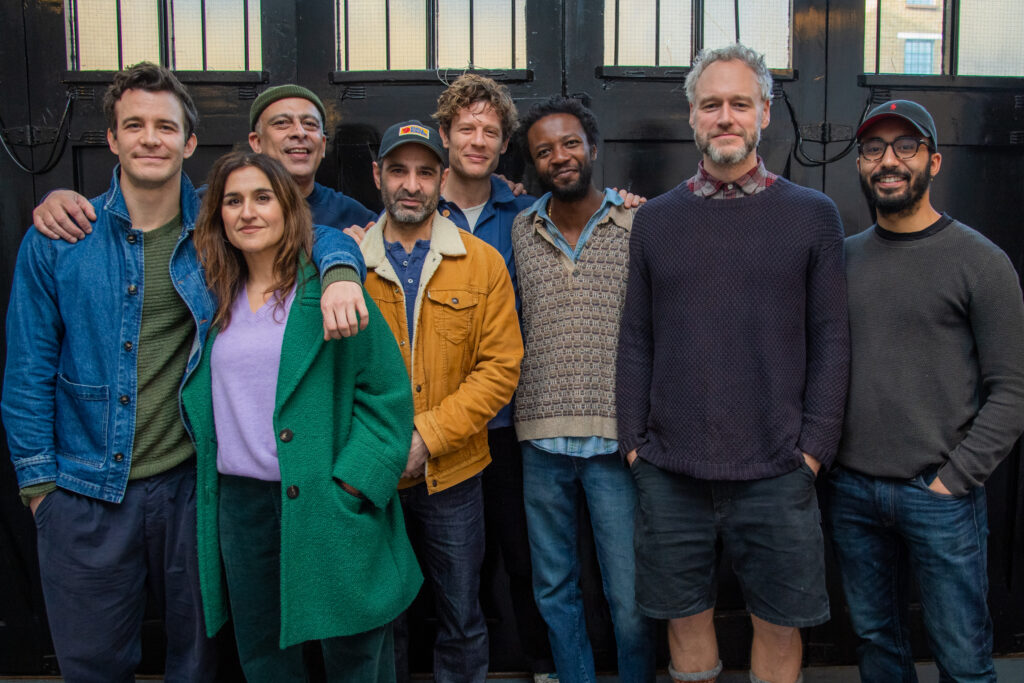 A LITTLE LIFE
Based on the novel by Hanya Yanagihara
Adapted by Koen Tachelet, Ivo van Hove and Hanya Yanagihara
Originally produced by Internationaal Theater Amsterdam
Cast: James Norton, Luke Thompson, Omari Douglas, Zach Wyatt, Elliot Cowan, Zubin Varla, Nathalie Armin, Emilio Doorgasingh
Conceived and Directed by: Ivo van Hove; Set & Lighting Design: Jan Versweyveld;
Costume Design: An D'Huys; Music & Sound Designer: Eric Sleichim;
Casting Director: Julia Horan CDG
Richmond Theatre – 14 – 18 March
Harold Pinter Theatre – 25 March – 18 June
James Norton (Happy Valley, Grantchester) stars as Jude as the visionary director Ivo van Hove (Network, Hedda Gabler) stages the English language premiere of A LITTLE LIFE, his acclaimed production of the million-copy bestseller by Hanya Yanagihara (To Paradise, Booker Prize Shortlist for A Little Life).
The much-anticipated play also stars Luke Thompson (Bridgerton, Hamlet), Omari Douglas (It's A Sin, Constellations), Zach Wyatt (The Witcher, I and You), Elliot Cowan (The Crown, 2:22 A Ghost Story), Zubin Varla (Tammy Faye, Equus), Nathalie Armin (Force Majeure, The Doctor), and Emilio Doorgasingh (Best of Enemies, The Kite Runner).
A LITTLE LIFE follows four college friends in New York City: aspiring actor Willem, successful architect Malcolm, struggling artist JB, and prodigious lawyer Jude.
As ambition, addiction, and pride threaten to pull the group apart, they always find themselves bound by their love for Jude and the mysteries of his past.
But when those secrets come to light, they finally learn that to know Jude St Francis is to understand the limitless potential of love in the face of life.
Listings Information
A LITTLE LIFE
Harold Pinter Theatre
Panton St, London SW1Y 4DN
Box Office: 0333 009 6690
Richmond Theatre:
Performances at 7pm
Harold Pinter Theatre:
Previews:
Monday to Saturday at 7pm
Tuesday – Saturday at 7pm
Thursday matinees at 1.30pm (except 20 April, 18 May)
Saturday matinees at 1.30pm (except 6 May)
Sunday matinees at 2pm
Access performances:
British Sign Language – 23 May at 7pm
Audio Described – 31 May at 7pm
Captioned – 7 June at 7pm