Steven Furst is currently appearing in the amazing Made in Dagenham at the Aldephi Theatre in London.  This show is ending far tragically early on the 11th of April so be quick and see it before its too late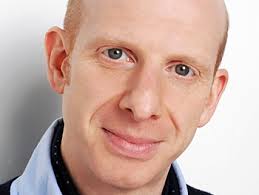 Favourite show (whether you have been in it or not)?
Oooh hard one. I would say Guys and Dolls is up there but for me Jesus Christ Superstar will always be a favourite.
Favourite book?
Always love PG Woodhouse, anything by JP Donleavy. Just finished The Bees by Laline Paul – extraordinary.
Favourite theatre?
The National.
Favourite song?
Spinning Wheel. Its a tune I have sung for over 20 years as my alter ego Lenny Beige. Written by Blood Sweat and Tears and covered by many many people.
Favourite music?
Music is my main passion. It would be impossible to say a favourite genre. I adore Northern Soul, funk, easy listening, chamber pop, old school heavier rock like Led Zep, just so many. And because my parents were classical musicians this is also a genre I love.
Favourite food?
Another passion. I do like the simplicity of Greek food. A a Jew I love Chinese food. Woody Allen once said Jews know two things; suffering and where to get great Chinese food.
What is your favourite role?
MY own favourite  was playing Stuart in a play called Wet Weather Cover about 2 actors in a caravan on a film set in Spain.
What was your first role?
I was 13 in the Hampstead Garden Suburb Amateur Dramatic Society playing a young boy in Alan Bennett's 40 Years On.
And what role would you really like to play?
I've never really done Shakespeare and very open to that idea. The Fool perhaps in Lear. I would also love to do a Pinter, love the dark dark humour of his stuff.
You're clearly very talented and had a varied career, do you prefer writing or performing?
OH performing. Always performing. I try to write but find it a constant struggle. I am good at writing bits and bobs and gags for various characters and shows but sit-coms or films, not good.
So to follow on, do you prefer TV or Theatre?
I adore both. I love the family feeling of being in a company but I like the initmacy of doing television. I am lucky in that I seem to do both
Can you tell us about Lenny Beige and the Mayor of Kentish Town?
Lenny Beige has been in my life for more than 20 years. He's an old school all-round cabaret entertainer. He's based largely on my hero Anthony Newley, of of this country's greatest all rounders. Beige has allowed me to do some amazing work with some extraordinary people over the years. The Mayor is my newest creation and is loud, brash, and going down very well. I am about to do some live gigs as him, and we have a YouTube full of little films we shot last years. He is potentially the most appealing character I have ever done.
If you weren't a performer what would you be?
I would probably have gone into music production. I play many instruments and have a good ear.
What advice would you give 16 year old Steve?
Learn the piano. And practice. Lots of practice for whatever you want to do. I spent too many gigs being ill-prepared.
What was the last stage show you saw and really enjoyed?
I adored Clarence Darrow with Spacey. A masterclass.
You were in the Orange adverts, did people think you were a real studio exec rather than an actor?
Ha ha. Not really. But those were some very very happy days shooting over 30 commercials.
And you were in the Legend of Dick and Dom, do you have a large child/teen/student fan base now because of it?
There are a few fans of that show. And the biggest fans of it were those of us in it. Another beautiful working experience. We are all still in touch and we still hold out hope for another series
Can you tell us what you will be up to next?
Lots of live gigs, Lenny is doing his 21st Anniversary Show back in his old venue, plus London Wonderground in August. The Mayor is doing lots of stand up gigs and we are releasing a Mayor/Lenny Beige Rap Battle single called 'Bring The Ruckus/30 Years A Beige' available for download on the 30th April.
A big thank you to Steven for answering the questions