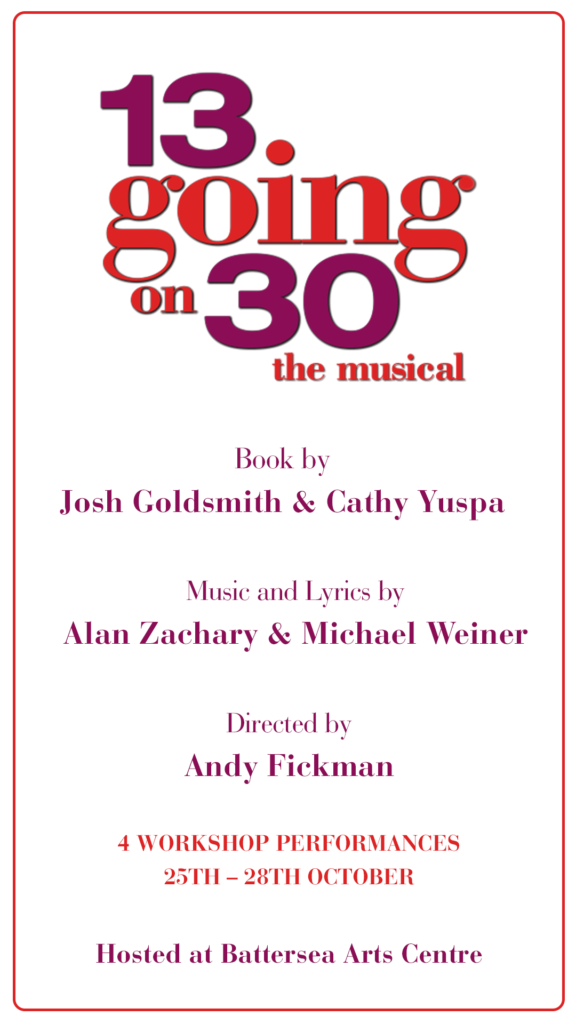 WORLD PREMIERE OF
13 GOING ON 30 THE MUSICAL
TO HOLD WORKSHOP
PERFORMANCES FROM
25 – 28 OCTOBER 2023
ROYO are delighted to announce that the world premiere of new musical 13 GOING ON 30 THE MUSICAL, written by the writers of the hit film of the same name, Josh Goldsmith and Cathy Yuspa, will be holding a two week workshop hosted at Battersea Arts Centre. During the workshop, there will be four script-in-hand public performances with a brilliant cast and live band on Wednesday 25 October, Thursday 26 October, Friday 27 October and Saturday 28 October at 7:30pm. The workshop will take place ahead of a run in Summer 2025. Casting is to be announced.
13 GOING ON 30 THE MUSICAL is a stage reimaging of the beloved 2004 hit romantic comedy film that starred Jennifer Garner and Mark Ruffalo. It follows the story of Jenna Rink, an adorably awkward 13 year-old girl who wishes she could skip over the horrors of middle school.
What does Jenna Rink want for her birthday? That's easy. At thirteen years old, she wants one thing only – to be thirty, flirty and thriving. As she blows out her birthday candles, she magically wakes up seventeen years later: a thirty-year-old fashion magazine editor with a life that seems to be perfect. As she unravels the mystery of the person she has grown up to be, Jenna must work out what, and who, really matters.
Josh Goldsmith and Cathy Yuspa, writers of the book and the original screenplay, said: "When we poured our middle school pain into the movie 13 Going on 30, we never quite imagined it would stick around to this day as a rom-com parents show their kids, a Halloween costume, a scene in an Ariana Grande music video, and a teen sleepover staple. Now we're thrilled to be bringing our pain across the pond with 13 Going on 30 The Musical. It's been endlessly fun working with ROYO, Todd Garner, Revolution Studios, composer/lyricists Alan Zachary & Michael Weiner, and director Andy Fickman to reinvent this story for the London stage. We can't wait for a new generation to grab some Razzles and feel thirty, flirty, and thriving."
13 GOING ON 30 THE MUSICAL will have music and lyrics by Michael Weiner and Alan Zachary (First Date (Broadway), High School Musical: The Musical: The Series (Disney+)) and direction by Andy Fickman (Heathers, She's The Man). Casting for the adult company is by Will Burton for Grindrod & Burton Casting and casting for the children is by Keston and Keston.
Purchase Tickets: bac.org.uk/whats-on
TikTok: 1330musical
X: 1330musical
Instagram: 1330musical
LISTINGS INFORMATION
25 – 28 October

Hosted at:
Battersea Arts Centre
Lavender Hill
London SW11 5TN

Box Office: 020 7223 2223
Tickets: £13.30