Festival Theatre, Malvern – until 3rd September 2022
Reviewed by Courie Amado Juneau
5****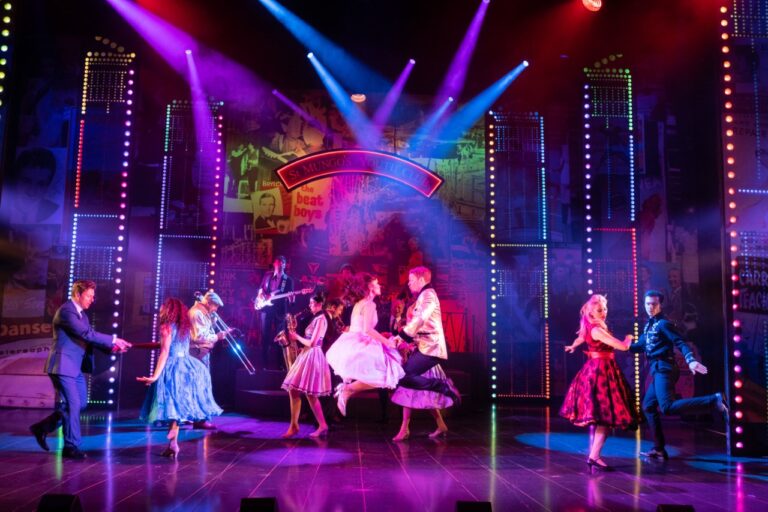 This is the third instalment in the Dreamboats & Petticoats stage franchise. The story follows the continuing trials and tribulations of Bobby and Laura.
The story opens (rather satisfyingly) in a dusty attic with an even dustier tape recorder leading us into a conversation about an era before streaming, CDs etc… It's the conversation those of us of a certain age will quickly recognise. We are soon transported back to St. Mungos Youth Club where the fictional band Norman and the Conquests are exploring some creative differences. Fame beckons for our heroine (in Torquay, naturally) contrasting with a summer season at Butlins for her beau, keeping them far apart. There's obviously a back story from previous segments but it's explained enough so you don't lose out if this is your first show in series. The narrative feels genuine, interesting and of it's time! It isn't, however, just a thin excuse to play some classic tunes. The band were well drilled, tight and exciting and I was particularly impressed with the lady backing singers wielding the saxes, which made me realise every band should have them. An intoxicating combination! The "Blue Moon" acapella was another highlight. There's a lot of saucy humour present throughout. Indeed, the entire cast's timing was as flawless in comedic and dramatic terms as it was in musical ones. David Benson's impression (unseen) of Kenneth Williams was impeccable and made me grin from ear to ear. The undoubted star comic turn was Norman (played by Joseph Lukehurst) with genuinely lol-worthy moments with a pram and also his breakup song's histrionics. His mean, moody rocker showed he has an impressive breadth of characterisation up his sleeves.
The couples (both married ones and our two leads) were particularly strong vocally. Bobby (Jacob Fowler) and Laura (Elizabeth Carter) made a likeable couple in a superb piece of casting giving us a believable dynamic we genuinely cared about.
The absolute standout performance of the night was Lauren Anderson-Oakley (playing Sue) singing "I Just Don't Know What To Do With Myself" which was so wrought with passionate emotion it made me cry. A powerhouse performance that showcased a wonderful talent to its fullest effect. In a word, stunning! "Venus In Blue Jeans" was showcased in both a knowing joke (which I won't spoil) early in the show as well as a welcome return, along with several other hits, from tonight's bona fide 60's star turn Mark Wynter (playing Larry the impresario) – proving himself as pleasing an actor as he is a singer. "At The Hop" closed the show in a genuine party atmosphere in the best tradition of The Young Ones! A rousing send off for a fantastic show with a lot to endear it with the music (obviously) but also reveling in the 60s innocent attitude, the clothes etc etc. A feel good show that I have no hesitation in wholeheartedly recommending.