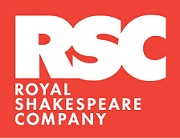 CASTING ANNOUNCED FOR THE RSC'S HENRY VI PART ONE: OPEN REHEARSAL PROJECT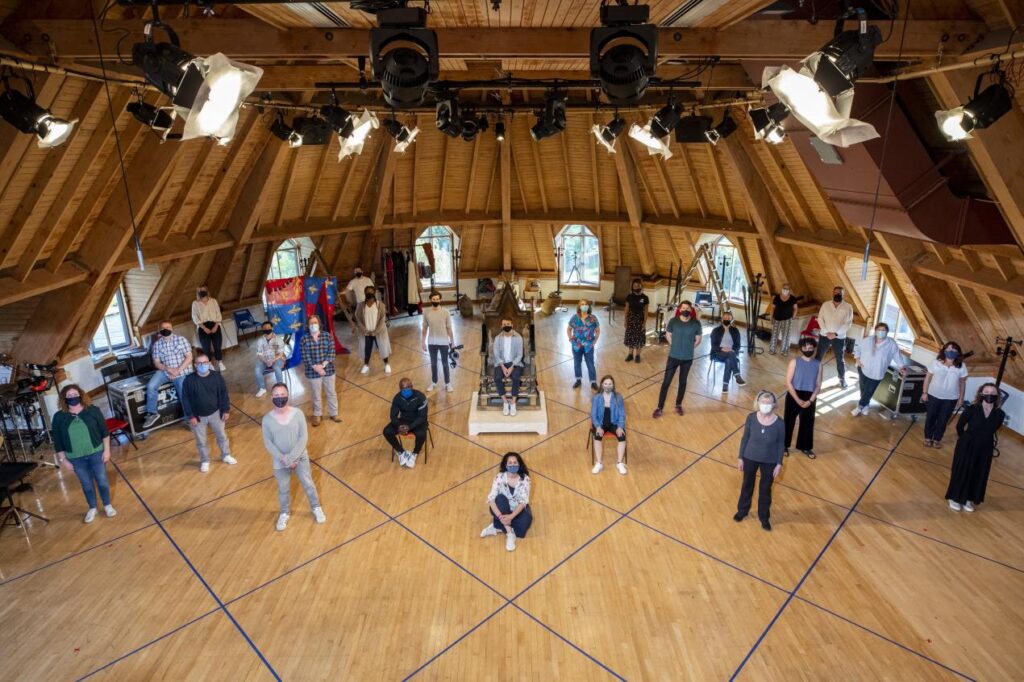 Photograph by Ellie Kurttz. Copyright @ RSC. From front row working back (left to right) Julia Wade (Stage Manager), Jamie Ballard (Talbot), Bridgitta Roy (Warwick), Marty Cruickshank (Reignier), Cathleen McCarron (Text and Voice), Mark Hadfield (Winchester), Michael Balogun (York), Mariah Gale (Margaret), Lily Nichol (Joan La Pucelle), Klare Roger (DSM), Peter Griffin (Production Manager), Gregory Doran (Director), Mark Quarterly (Henry VI), Owen Horsley (Director), Pip Horobin (CSM) James Cooney (Alencon), Andrew Brooks (Video Production), Amanda Harris (Exeter), Chris Middleton (Gloucester), Ben Tyreman (Producer), Briony Kirkman (ASM), Mimi M Khayisa (Somerset), Liyah Summers (Bastard), Rachel Barber (Covid Marshall), Jamie Wilkes (Charles, the Dauphin)
Casting details are announced for the Royal Shakespeare Company's (RSC) Henry VI Part One: Open Rehearsal Project, which will invite audiences inside the full rehearsal process for the first time in the Company's history, culminating in a live rehearsal room run-through of Henry VI Part One broadcast online on Wednesday 23 June at 7pm.
King Henry VI: Mark Quartley
Mark played Ariel in the RSC's live motion-capture production of The Tempest in 2016, Other RSC credits include Maydays, Measure for Measure and Written on the Heart. Theatre credits include Armadillo (The Yard Theatre), Strife (Chichester Festival Theatre), Another Country, Macbeth (Trafalgar Studios), Ghosts (The Rose Theatre), Private Peaceful (Theatre Royal Haymarket), The Tempest (Theatre Royal Bath), The War Has Not Yet Started (Southwark Playhouse) and A Midsummer Night's Dream (Shakespeare's Globe Theatre). Mark's screen credits include The Ipcress File, Cursed, Truth Seekers, Criminal, Shamed, Red Dwarf, Hoff The Record, In The Club, Lucky Man, Cuffs, Siblings and Vera.
Talbot: Jamie Ballard
Jamie last appeared at the RSC in the 2015 production of The Merchant of Venice, following previous roles in Written on the Heart and Measure for Measure (2011). Jamie is perhaps best known for playing the title role of Harry Potter in the West End production of Harry Potter and the Cursed Child. Other stage credits include Mother Christmas (Hampstead Theatre), In The Vale of Heath (Hampstead), Uncle Vanya (Theatre Clwyd/Sheffield Crucible), The White Devil (The Globe), Ghosts (HOME Manchester) and King John (The Rose Theatre Kingston). Jamie's screen credits include Suffragette, Vera (ITV), Three Girls (BBC One), Penny Dreadfuls (Sky), Ripper Street (BBC One) and The Hollow Crown (BBC).
Richard Plantagenet, Duke of York: Michael Balogun
Michael will make his RSC debut as York following his acclaimed role in Death of England: Delroy and Macbeth for the National Theatre. Other stage credits include Macbeth (Chichester Festival Theatre), Barbershop Chronicles (Royal Exchange Theatre), The Dark (Ovalhouse Theatre), and People, Places and Things (Headlong). His screen work includes You Don't Know Me, War of the Worlds and Casualty.
RSC Associate Artists Mariah Gale, Mark Hadfield and Amanda Harris will play the roles of Margaret, Winchester and Exeter respectively.
Margaret: Mariah Gale
Mariah last appeared at the RSC playing Wendy in the 2015 production of Wendy and Peter. Other RSC credits include Morte'D Arthur, The Comedy of Errors, As You Like It, Love's Labour's Lost, Hamlet, A Midsummer Night's Dream, Julius Caesar and The Tempest. Screen credits include I May Destroy You, Dr Who, Father Brown, Broadchurch and Death Comes to Pemberley.
Winchester: Mark Hadfield
Since joining the company in 1987, Mark has appeared in at least 20 RSC productions including Michael Boyd's 2018 production of Tamburlaine; The Plantagenets, The Seagull, The Canterbury Tales, Jubilee, Twelfth Night, Love's Labour's Lost, Hamlet and A Midsummer Night's Dream.
Exeter: Amanda Harris
Amanda's previous RSC credits include The Two Noble Kinsmen, The Taming of the Shrew, A Midsummer Night's Dream, Troilus and Cressida, and Measure for Measure. She played Emilia in Greg Doran's 2004 production of Othello for which she won an Olivier Award. Other stage credits include Othello, Pericles, Vanity Fair, Andromache (Donmar Warehouse); Flare Path, One For The Road, Much Ado About Nothing, King Lear (Bristol Old Vic); Cause Celebre, Take The Fire – Jean Cocteau monologues, Island of Slaves (Lyric Hammersmith); Arcadia (Birmingham Rep/Bristol Old Vic) and Travesties (Savoy) and Macbeth (Battersea Arts Centre). Amanda's television credits include Oliver Twist, Sam Saturday, A Vote for Hitler, Sharman, A Touch of Frost, Midsomer Murders, Lady Jane, Jeeves and Wooster, The Bill, Casualty, Heartbeat and The Locksmith.
The cast also includes:
James Cooney (Alencon)
James was Rosencrantz to Paapa Essiedu's Hamlet, Patroclus in Troilus Cressida, and most recently Claudio in Measure for Measure and Bianca(o) in The Taming of the Shrew.
Marty Cruickshank (Reignier)
Marty was the Duchess of York in Richard II and played Gertrude to Sam West's Hamlet (2001). She also appeared in Heresy of Love and played Hippolyta in A Midsummer Night's Dream in collaboration with Garsington Opera.
Oliver Johnstone (Suffolk)
Oliver played Edgar in King Lear, and Iachimo in Cymbeline, and appeared in Imperium and Oppenheimer, and Puck in A Midsummer Night's Dream in collaboration with Garsington Opera.
Mimî M Khayisa (Somerset)
Mimi last appeared at the RSC in 2016 playing the roles of Ophelia and Cordelia in Hamlet and King Lear.
Anna Leong Brophy (Burgundy)
This is Anna's debut with the RSC. Anna's previous stage credits include Richard Pictures (Edinburgh Fringe); Pitcairn (Chichester Festival Theatre/Shakespeare's Globe), In the Night Time (Before the Sun Rises) (Orange Tree Theatre) and Alice in Wonderland (Storyhouse). Her screen credits include Harry Hill's Clubnite, Back, Terra Vision, Traces, Last Tango in Halifax, Alibi's Traces, Berlin Station and Paradise War.
Chris Middleton (Duke of Gloucester)
Chris was most recently with the RSC in Salome, Coriolanus and in the Roaring Girls Season (The Witch of Middleton and Arden of Faversham)
Lily Nichol (Joan la Pucelle)
Lily appeared in Imperium Parts 1 & 2 and most recently in Maydays.
Bridgitta Roy (Warwick)
Bridgitta returns to the company following the 2019 production of King John in which she played the role of Queen Elinor.
Liyah Summer (Bastard of Orleans)
Liyah was most recently with the RSC in Maydays.
Jamie Wilkes (Charles, the Dauphin)
Jamie was one of the Two Noble Kinsmen, and appeared in The Rover in 2016, as well Oppenheimer, and The Shoemakers Holiday.
RSC Artistic Director Gregory Doran said: "Emerging from the pandemic, we know we can reach world-wide audiences through our work online. We also know that there's a strong appetite from those who can't join us in Stratford but want to feel part of the RSC. This project opens up the process of theatre-making to audiences like never before. It's a voyage of discovery, which we hope will yield some perhaps surprising insights into the ways plays get rehearsed, and give the opportunity for anybody to benefit from the training that exists here at the RSC, growing their own skills or just discovering something new. The open rehearsal will also mark for us a transition back to in-person theatre in Stratford as our buildings gradually come back to life during the summer through our café and restaurant, our new outdoor Garden Theatre and the Royal Shakespeare Theatre, which will be ready for indoor performances of The Magician's Elephant this Autumn."
Director Owen Horsley added: "The rehearsal room is a fascinating place filled with imagination, creativity and discoveries. Currently we ask audiences to book for a show with little or no context of how we approached the play or the decisions that were made in the room. It is exciting to consider the prospect of audiences being engaged at an earlier point in the process to deepen their understanding and investment into the theatre experience. We will not be taking Henry VI Part One into a theatre for a live audience but who knows, maybe one day will be able to offer both – an open rehearsal and then an opportunity to step into the theatre to see the production that you witnessed being made. As we return to the act of making theatre again in person, I think it is a great moment to rethink how we do that."
Henry VI Part One: Open Rehearsal Project features Music by Paul Englishby, Movement by Polly Bennett, Fights by Rachel Bown-Williams & Ruth Cooper-Brown.
The daily schedule of activity begins with a Company Warm Up, led by members of the acting company and creative team, in which participants develop skills such as voice technique and stage fighting, as well as physically preparing for the day.
From noon, online audiences are invited to join a live rehearsal session as the actors and directors put the show on its feet. This will be followed by the opportunity to join members of the company for a post-rehearsal Green Room Chat as they reflect back on the day, unwind after rehearsals and answer audience questions about the process.
The Henry VI Part One: Open Rehearsal Project will culminate in a live streamed final rehearsal room run through from Stratford-upon-Avon on Wednesday 23 June, available to watch on demand until midnight on Friday 25 June. This will give audiences a unique chance to see the end result of three intensive rehearsal weeks – the moment just before a show hits the stage.
The three Henry VI plays were originally due to be presented in the Swan Theatre from 10 October 2020 – 2 January 2021 by a single company of actors, across two performances but were later postponed due to the ongoing impact of the pandemic.