Bard in the Botanics festival, Glasgow Botanic Gardens – until 9 July 2022
 Reviewed by Rachel Farrier 
4****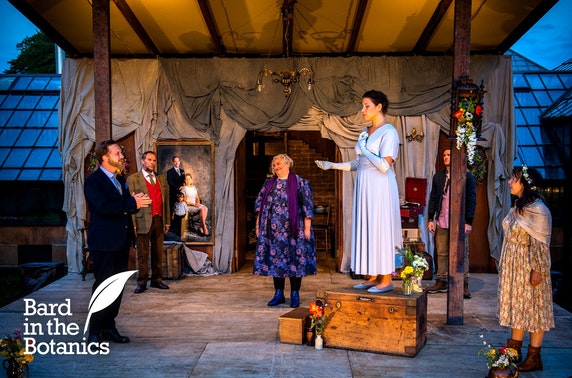 Staging Shakespeare outdoors in Scotland, even in Summer, is an act of faith but the Bard in the Botanics festival has been doing it successfully for 20 years (with a covid interruption). However, this was my first visit and was is soon easy to see why audiences – dressed for rain and cool summer evenings – bring their own rugs and camping chairs to such a beautiful setting, which on an actual midsummer's night, lends itself perfectly to a tale of magic and mayhem in the woods.
This production of A Midsummer Night's Dream fizzes with the energy and fun from the start, and while the production values in terms of the set are … limited (although with some beautiful yarn bombing) the acting on display was first rate. Robert Elkin as Bottom and Katie Barnett as Helena in particular were outstanding, both for their comic timing and physical humour. Robert Elkin's seamless succession of accents when Bottom plays Pyramus was a particularly joyous few minutes. Stephen Arden's rendering of Peter Quince as a classic am-dram director was also pitch perfect. 
With Lysander becoming Lysandra, and Titania putting a spell upon Oberon (rather than the other way around, as it is usually played), the scene is set for a novel interpretation of the classic script, and the whole cast bring a vibrancy that makes it seems fresh and new, even to those of us who may be familiar with it. Which I suppose is where the true magic of Shakespeare lies. The interjection of some pop classics throughout and the occasional improvised line thrown to the audience were an excellent touch.
Grace Lyons portrayal of Hermia also deserves a mention – the righteous fury and indignation that she feels in the face of men (her father, the Duke and her suitor Demetrius) believing that they know what is best for her felt horribly on point, given recent events in politics elsewhere. She injected pathos perfectly, in the midst of brilliant and mayhemic comedy.
Despite an assault of midges, and a definite coolness in the evening temperature this was a wonderful and very funny evening out and I can now see why Bard in the Botanics is so popular – get a ticket if you can.