London County Hall booking – until 25th September 2022
Reviewed by Claire Roderick
4****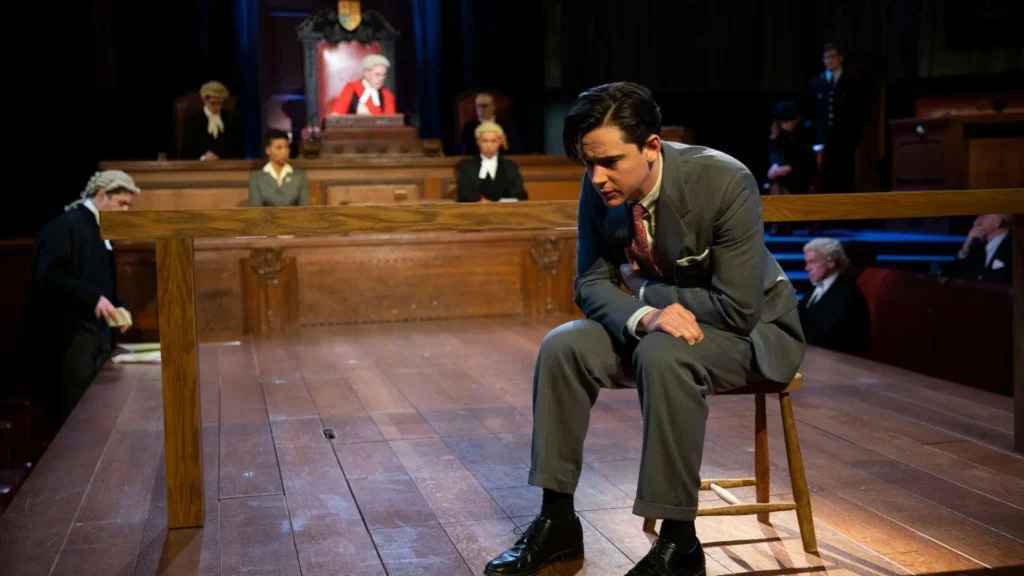 It's five years since Lucy Bailey's stunning production of Witness For The Prosecution opened in London County Hall, and it is as exciting as ever in the hands of its seventh cast.
The sense of grandeur and power as you walk through the building is wonderful and the immersive production is in the perfect setting within the magnificently atmospheric council chamber, creating a real sense of authority when the court officials are present. Audience members can pay to be in the jury, be sworn in and take a more active role in the trial.
Agatha Christie's classic play has all the twists and turns you expect, and still draws gasps from audience members who are unfamiliar with the plot. Leonard Vole's melodramatic premonition of being found guilty of murder and hanged makes way for the civilised setting of Sir Wilfrid Robarts QC's (Owen Oakeshott) chambers. Vole (Joshua Glenister) and his solicitor Mr Mayhew (Peter Landi) relate the facts of his case to the barrister. Vole had befriended a rich old lady (50 was definitely not the new 30 when this was written!) and become a regular visitor to her home. When she is found dead from a blow to the head after an apparent burglary attempt, the police suspect Vole. The victim's housekeeper is adamant she heard Vole at the house, but his wife insists he was at home with her. However, Vole's wife Romaine (Lauren O'Neil) is German – will a 1950's jury believe a foreigner? – and her behaviour and attitude is puzzling. What is she planning, and will she stick to her story in court?
Vole's charm and personality convince the women in Robarts' office of his innocence, and Joshua Glenister's emotional performance makes an instant connection with the audience, sweeping them along with his story. Bailey's direction is astute and assured, and the impressive cast have fun with the dated language and attitudes of the characters, and Owen Oakeshott and Richard Teverson have a ball as the duelling barristers in the trial scenes. Lauren O'Neil as Romaine is the polar opposite of Glenister's affable Vole – sharp and scornful of the pompous lawyers and oozing contempt for the establishment. Mandi Symonds steals the show as the victim's housekeeper Janet Mackenzie, providing lots of laughs in her testimony.
Witness For The Prosecution is a gripping and polished production – a thoroughly entertaining guilt-free night out.