Lyceum, Sheffield – until 2 October 2021
Reviewed by Alison Beaumont
5*****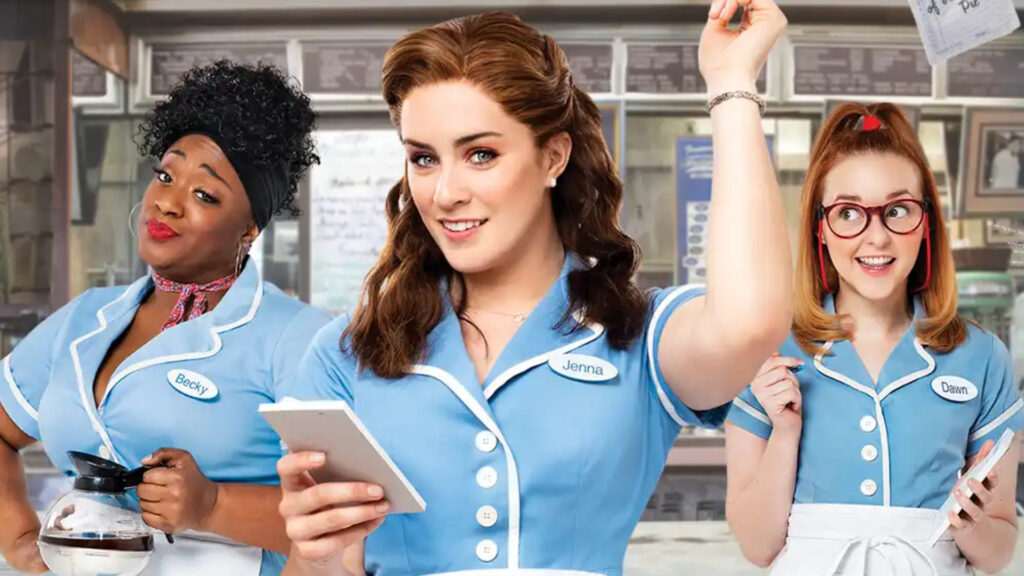 Waitress is a musical comedy about a waitress (Jenna) and expert pie maker who longs for happiness in her life. She finds out she is pregnant to her abusive husband. Her life becomes complicated when she falls for the new doctor in town, Dr Pomatter. Her work friends are there to support her in whatever life throws at her. It is based on the film "Waitress" from 2007.
This was yet another musical that I hadn't seen the movie for and boy was I in for a treat.
Jenna was played by Lucie Jones, former contestant of the X Factor and UK's Eurovision entry in 2017 and did not disappoint at all with her vocals. You definitely need to get your tissues ready when she sings "She used to be Mine", even Lucie had tears rolling down her face, very emotional.
Dr Pomatter was played by the one and only Matt Jay-Willis from Busted who showed his talent with a very different style of vocals from the pop music I used to listen to him sing to being in musical theatre and thought he did exceptionally well.
There were a few minor mistakes but to the untrained eye these would have been easily missed. The ad lib by Old Joe played by Michael Starke, and for those of you who don't know who he is he played Sinbad in Brookside (all us oldies will remember) was so funny, there was a part he was in a wheelchair being wheeled on to see Jenna in hospital when she had her baby and was accidentally wheeled into the stage prop to which he said "it's a good job I'm already in hospital", qualities of an experience actor.
I really really enjoyed the scene where Ogie (George Crawford – watch this space for this up and coming young actor) sang "Never ever getting rid of me" I found this so funny. I wonder how long it took him to get the jump over the chair correct! Ogie was definitely the funniest character for me.
To say that this was only the 4th venue they had performed since touring can only mean that this musical will get better. The connection between Jenna and Dr Pomatter over time will definitely add to the chemistry of the characters.
There was a little mention of Sheffield in the musical adding to the personal touch.
Everyone deserves a mention in this musical as they all were stars in the own right – Becky (Sandra Marvin), Dawn (Evelyn Hoskins) – brilliant character, Earl (Tamlyn Henderson) and Cal (Christopher D Hunt). And let's not forget little Lulu who came on for her 5 minutes of fame towards the end, could this be the next up and coming star.
A standing ovation from the audience shows the magnificence of this show. Well done everyone.
I will end this review a bit cryptic, and if you have seen Waitress before you will probably know what I mean and if you haven't' then you need to go and see it to find out what I mean when I say "Pineapple upside down cake".