Touring across the Portsmouth Region – until 12th Nov 2022
Reviewed by Emma Barnes
5*****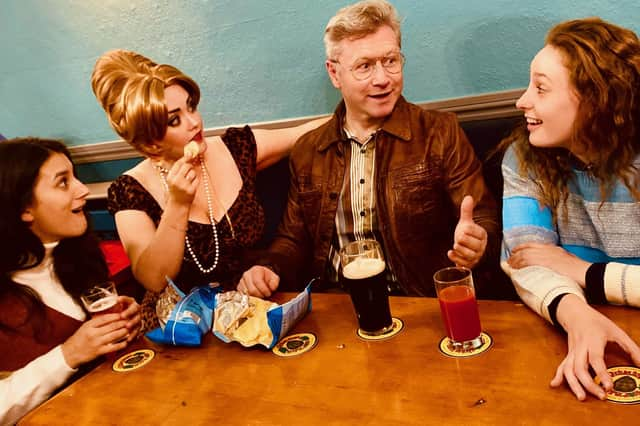 The story is told by just four characters,  it tells the experience of three women in the run up and during the Falklands conflict in the early 80's.   The 75 riveting minutes of classic 80's tunes are perfectly balanced with a poignant and relevant storyline with local historical context. An uplifting and moving tribute to the Portsmouth region.

The indomitable Stella (Nathalie Gunn) is magnificent, masterful and maternal in her portrayal of the strong female role model for the two younger women. She welcomes us into her club and captures our hearts as each of their different stories unfold.  She introduces us to Polish refugee Susan (Julia Grela) and the lovesick Lesley (Emily Ambrose). Each provide stand out solo performances and together their harmonies were absolutely on point and a joy to listen to throughout.   Derek (Scott Ramsay) expertly lifts the tone with well delivered comedy. The Jazzercise sequence was our highlight of the night and if anything could have been taken to greater extremes.

Key to the success of this production is the setting. We were welcomed into a Church Hall  which had been transformed for the evening into 'The Paradise Club'  a fictional social club typical of the times.   The characters greet the audience and engage them in conversation creating a real atmosphere and transporting those of us who are old enough to remember back in time.   The characters in the story are not real, but the events are, and the place is.  The names all of all UK teenagers lost in the conflict are a stark reminder of the tragedy faced by so many families.  The timely staging of this piece also serve to reflect real events currently taking place on the world stage.

We give this performance 5 stars because it succeeds in leaving a lasting imprint. This is feel good 'gig theatre' at its best, an immersive engaging experience with stand out vocals,  a heart warming storyline combined with the thrill of being in a small room with a live band (South Coasts hottest party band – The Spoils).  There are no special effects, no scenery, no frills,  just stripped back raw talent and a clever delivery which keeps alive a local history that should be retold.
And it really worked !  The mood in the room was contagious. By the final song every member of the audience was up and dancing.   Prepare to be entertained, prepare to shed one or two tears, prepare to clap and sing.  A great night out combined with a lesson in local history that we highly recommend.

The show tours to 20 community venues across the region this Autumn.