Garrick Theatre, London 30 July 2021 (Tuck Shop West End until 8 August 2021)
Reviewed by Celia Armand Smith
5*****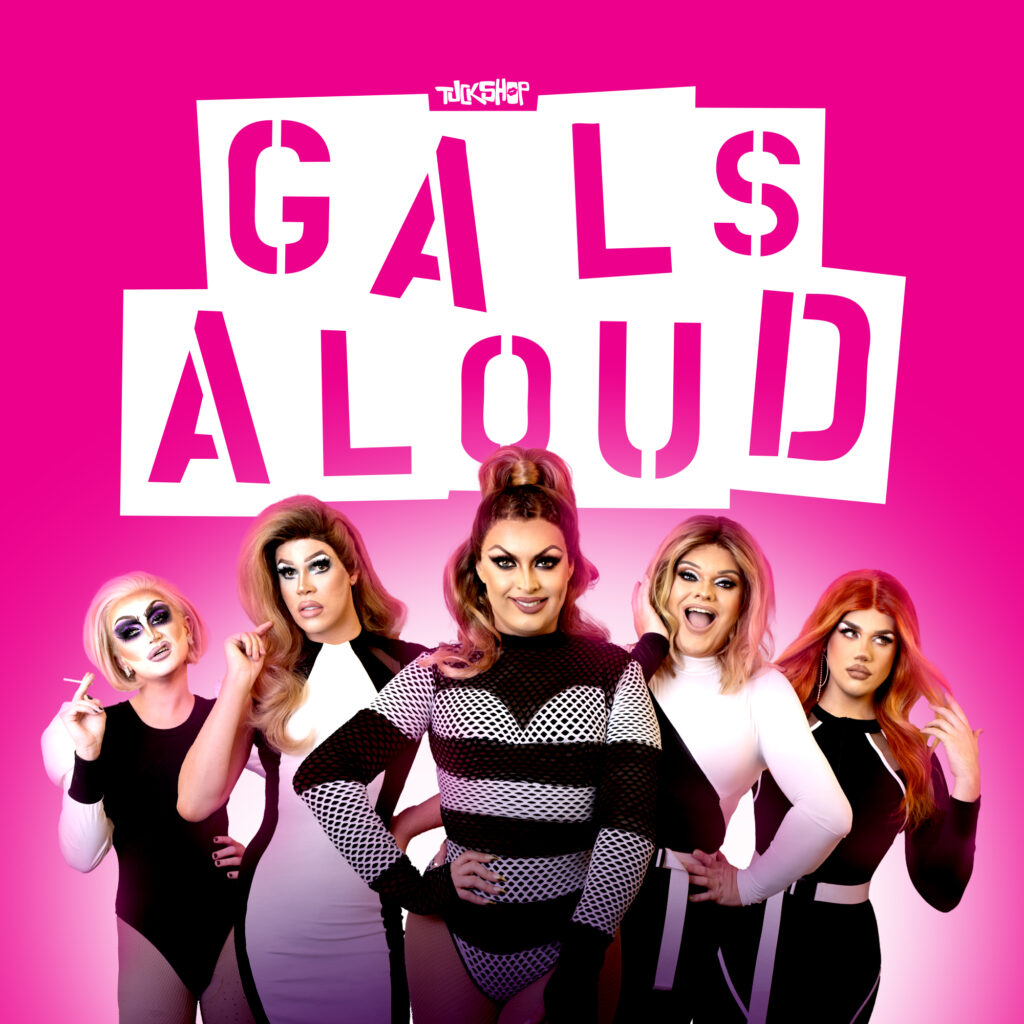 Gals Aloud is performing at the Garrick Theatre as part of the Tuck Shop West End two week run bringing the best of British drag to the West End.
Gals Aloud is a Girls Aloud tribute act starring Cheryl Hole as Cheryl, Herr as Nadine, Kitty Scott-Claus as Kimberly, Lydia L'Scabies as Sarah, and Ophelia Love as Nicola paying homage to the highs and lows of the iconic girl group Girls Aloud. The night featured sequins, neon bodysuits, dance routines, awkward TV interviews and appearances, and on stage mishaps.
In the lip synching tradition of drag, the group numbers and solo singles by each of the girls (gals) are seamlessly woven with bits of TV interviews, highlighting the ebb and flow of celebrity and post group life. Along with performing the group hits such as Love Machine and Biology with perfect choreography, each member of the group had their moment in the limelight. Cheryl Hole performed all of the classic Cheryl hits, including a revisit of the moment they met on RuPaul's Drag Race UK. The Nadine Coyle passport fiasco of 2002 was played out perfectly by Herr, as well as a live vocal stylings by Kitty Scott-Claus about Kimberly taking part in Shrek in the West End. Lydia L'Scabies was hilarious as Sarah, allowing for comedy and tragedy to sit side by side with an excellent rendition of I've Never Been To Me. Ophelia Love provided hilarious commentary and asides throughout and performed an unhinged yet unenthusiastic version of Beat My Drum which I am still laughing about 24 hours later. Then there was Javine, the "didn't quite make it" member of the troupe. Tayris, who was a fabulous last minute replacement, came all the way from Brighton and learnt the songs on the train. This cast was perfect in their ability to walk the line between parody and adulation.
These five queens are the very best of the best, dealing with the merry post lockdown hecklers and revellers with ease and carrying on with dance routines despite getting their heels caught in the lights on the stage. It felt like going to a gig in the "before times" where even the most sour faced audience member was on their feet by the end. It was a massive, glitzy, chaotic, camp production and I loved it, and I very much look forward to the Gals Aloud arena tour.