Grand Opera House York – until 3 October 2021
Reviewed by Michelle Richardson
4****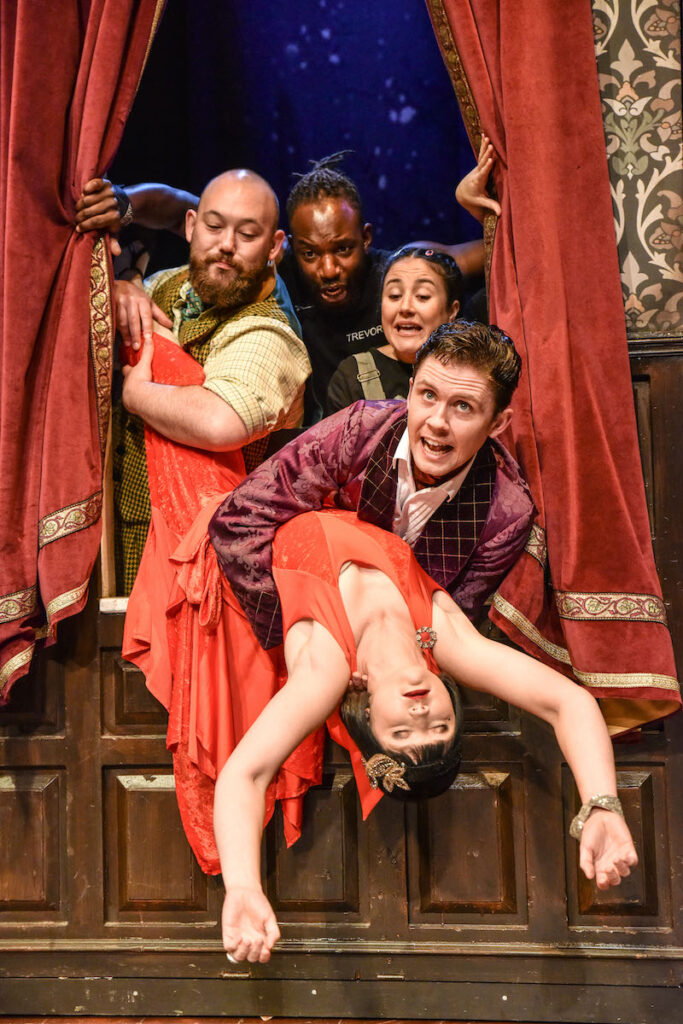 The hugely popular 'The Play That Goes Wrong', the multi award winning production from Mischief, is visiting York and the Grand Opera House once again, following on from its previous sell-outs.
The play is a play, within a play. The fictional drama group, The Cornley Polytechnic Drama Society are performing 'Murder at Havisham Manor', after finally having enough cast members to fill all the roles. This amateur production, introduced by the director (Tom Bulpett), double hatting as Inspector Carter, promises to be a whodunit with twists, shocks, and gripping suspense. What actually happens are shocks galore, but not in suspense or the whodunit, but by everything going wrong, in fact nothing goes right and just descends into mayhem.
The cast have to improvise, as one thing after another goes awry. This is executed with almost military precision, contending with collapsing sets, faulty props and fluffed lines. Each actor has at least two roles, their character and the role/roles that their character plays. The very talented cast work tirelessly delivering a very funny and extremely physical performance, full of energy and overacting as demanded by their characters.
All the cast are excellent, but I must mention April Hughes playing the femme fatal of the piece, Florence Colleymoore, she surely must be covered in bruises from the window scene. Also, her competition for the role of Florence, with Laura Kirman, a stand-in when she is knocked out, their behaviour and one-upmanship gets more and more extreme.
Tom Babbage, as Max, playing Cecil Havensham and the gardener, is first-rate. Once his character realises he is performing to a live audience, he can't resist playing up. After he gets an initial laugh, his actions become more and more outlandish and over the top. He certainly delivers a hilarious energetic performance, and is very lithe and supple, covering the stage well, lapping up all the attention.
The ingenuity of the design of the stage is totally mind blowing, so complex when things are falling apart and falling down. The action is clearly well-rehearsed, with impeccable timing, I would say, in order to prevent injury. At times it did look pretty dangerous, and it is amazing that it was all done so effortlessly.
The Play That Goes Wrong is so cleverly done, and the end result was quite magnificent in its chaos. This is a side-splitting, laugh out loud, comedy that will lift your spirits up no end