HIPPODROME, BIRMINGHAM – UNTIL SATURDAY 30 OCTOBER.
REVIEWED BY NADIA DODD
5*****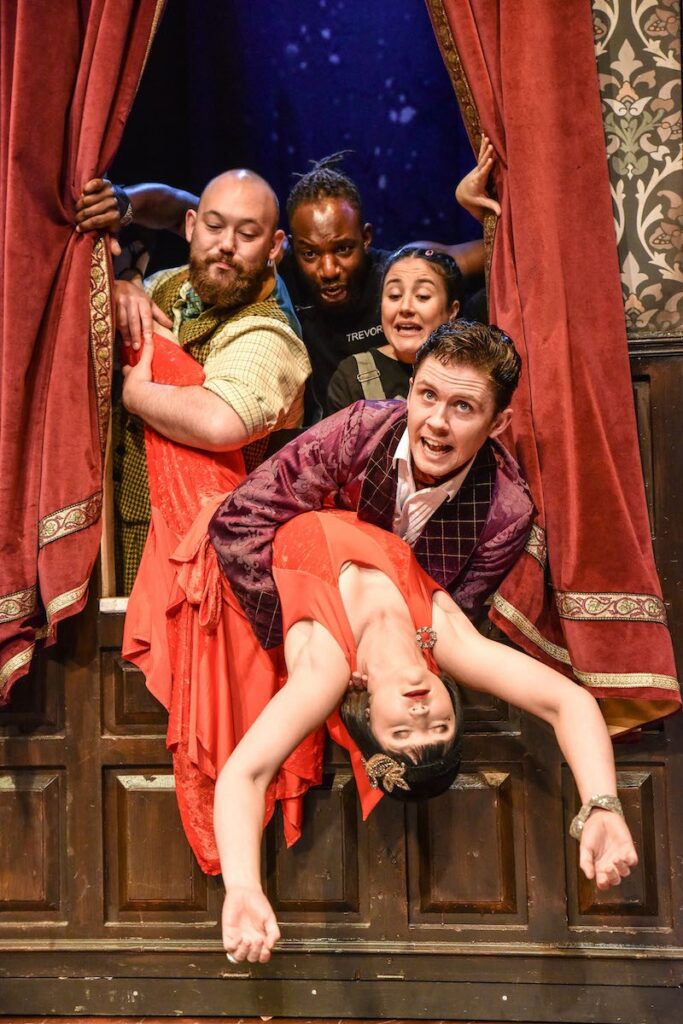 The play, now on it's 4th UK tour, performed by Mischief had the audience in stitches before the 7.30pm start – try not to be late as you will miss at least 10 minutes of the 'stage crew' setting up the stage scenery that quite isn't going to plan…….looking around our seats and in our bags for the missing dog, Winston, goodness knows where he got to…..
The name of the play says it all really, nothing in the play goes correctly, it's so much fun, British slapstick humor really at it's best.
The timing and acrobatics especially from Tom Babbage who plays Cecil Haversham was just perfect, you can really see the amount of rehearsing that has gone into this performance.
The show is a play within a play and has recently celebrated its 7th birthday. Cornley Polytechnic Drama Society are putting on their 1920's murder mystery show called 'Murder at Haversham Manor'. The scenes that start to unfold are a mixture of missed, dropped lines, extremely well timed collapsing sets and stage hands that end up becoming part of the show.
Many scenes I likened to watching episodes of the TV comedy series Fawlty Towers, the timing for all the stunts were just so impeccably carried out, without as far as we know, actually injuring anyone!
The other highlight for myself was the 2 females of the show attempting to play the same part (Florence Colleymoore) both Sandra, played by April Hughes and Annie, played by Laura Kirman were just hilariously literally bouncing off each other, amazing personalities.
There's nothing much like being within an audience where the whole room is belly laughing at what is happening on stage.
Expect some audience participation and heckling too, be careful if you get up to visit the toilet as they will notice and it makes it all the funnier for the rest of the audience.
As it's half term too currently for some lucky youngsters it's the ideal opportunity to book and bring them along to enjoy the theatre experience, the show is on in Birmingham until Saturday