53TWO, MANCHESTER – UNTIL 4TH NOVEMBER 2022
REVIEWED BY MIA BOWEN
4****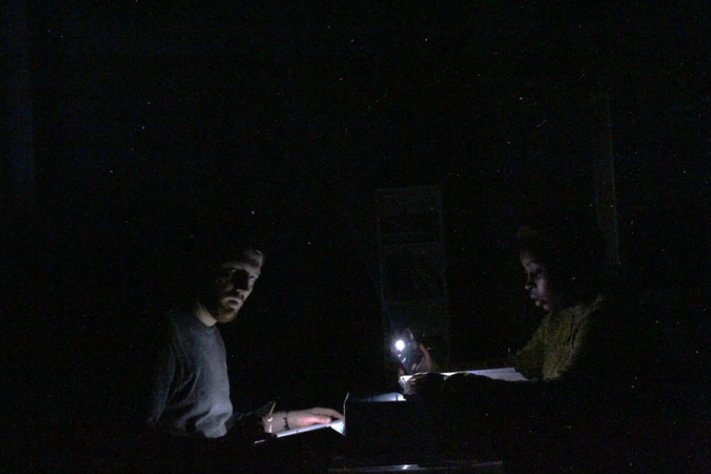 Last night Switch_MCR's new Horror Play The Other Side, had the audience jumping in their seats and shrieking, creating the perfect creepy mood for Halloween. This brand new Horror story will be raising hairs in the streets of Manchester for two weeks. Switch_MCR is a theatre based company that has grown to be one of the largest independent companies in Greater Manchester and was founded in 2018 by Royal Exchange Young Company graduates. In the same year they teamed up with 53two, one of the country's most exciting new theatres. A former car showroom and buried under the arches of Deansgate Castlefield, this atmospheric arts venue is fully accessible and is an arts charity, theatre and café/bar for artists, by artists. The stage is at ground level and the seats are placed higher than the seats immediately in front of them so that the occupants of further back seats have less of their views blocked by those further forward. The seats are not reserved, so it is first come, first serve. Before and on arrival at the performance, the audience was made aware of content warnings, such as sudden noises, flickering lights, strobes and haze.
After their sell-out production of 'We Won't Fall', Gabriel Clark (Director and co-writer) and Andrew Long (Benjamin Bates and co-writer) kicked off their new season with this unique spine chilling two act horror story. The first act is just over an hour and second is 45 minutes, with a 20-minute interval in between the two.
The story begins with Benjamin Bates talking to a woman, performed by Gráinne Flynn. It appears Bates is a patient attending a therapy session. You come to learn that Bates' fiancé Claire Cross performed by Ntombizodwa Ndlovu's, mother had died unexpectedly and left the family home to her. Claire has to confront her fear, grief and loss, as her past comes back to haunt her.
The talented cast gave realistic and sympathetic performances. Long's performance was flawless and full of energy, considering he spend the most time on stage out of the cast. A lovely surprise was from Ndlovu when she sang along to the record player, with her euphonious voice. I really enjoyed Flynn's character but the more you learned, the more she made the audience feel unsettled.
Mims Jeddal's lighting, Jack D'Arcy's sound and Elli Kipriadis' set facilitated an immersive experience and brought to life the creepy house.
If you are a horror fan, like me, I dare you to buy a ticket, you are guaranteed a spooktacular evening.