Alhambra Theatre, Bradford – until 3rd December 2022
Reviewed by Katie Brewerton   
5*****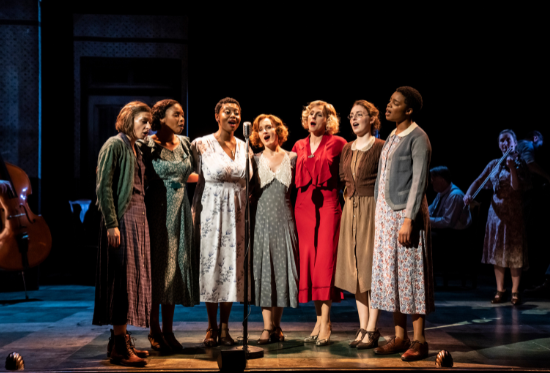 With the music of Bob Dylan, The Girl from the North Country is set in America in 1934,  Nick Laine (Graham Kent), runs a guest house for wayward travellers and we meet a range of them during the show. Taking place around Thanksgiving we soon learn that the characters are struggling to come to terms with their past mistakes or hoping their past doesn't catch up with them. Secrets are rife amongst the characters with more than one shocking revelation as the show progresses. 
We soon learn Nick is struggling to deal with his wife, Elizabeth's illness resulting in him beginning an affair with Mrs. Neilsen (Maria Omakinwa), one of the guests. Nick and Elizabeth's son, Gene (Gregor Milne) is struggling with his own issues, being unemployed during the great depression as well as struggling with his own heartbreak and his turbulent relationship with alcohol. Their adopted daughter Marianne (Justina Kehinde) finds herself pregnant with no father around leading to her father trying to marry her off to a much older man, as the only black person in a white family she has struggled throughout her life and is trying to find a place for her and her baby to fit in and be happy.
A host of other characters appear throughout the show as guests in the Laine family's B&B, but not all are who they say they are and dark secrets begin to be unravelled. The relationships between the guests are unique and very well done. This is a show full of twists and turns, with the beautiful music cleverly woven in.
Written and directed by Conor McPherson this is a wonderful and heart-breaking show with the Bob Dylan's music performed exquisitely by the cast. Frances McNamee as Elizabeth Laine is magnificent, her voice is phenomenal, and her portrayal of Elizabeth's mental health struggles are respectable and heart-breaking with the right amount of humorous comments added in as we realise, she still understands a lot of what is going on around her.
This is a show that has already had successes on Broadway and in the West End and it's clear to see why, this is definitely one to watch.