Arts Theatre – booking until 5 February 2023
Reviewed by Claire Roderick
5*****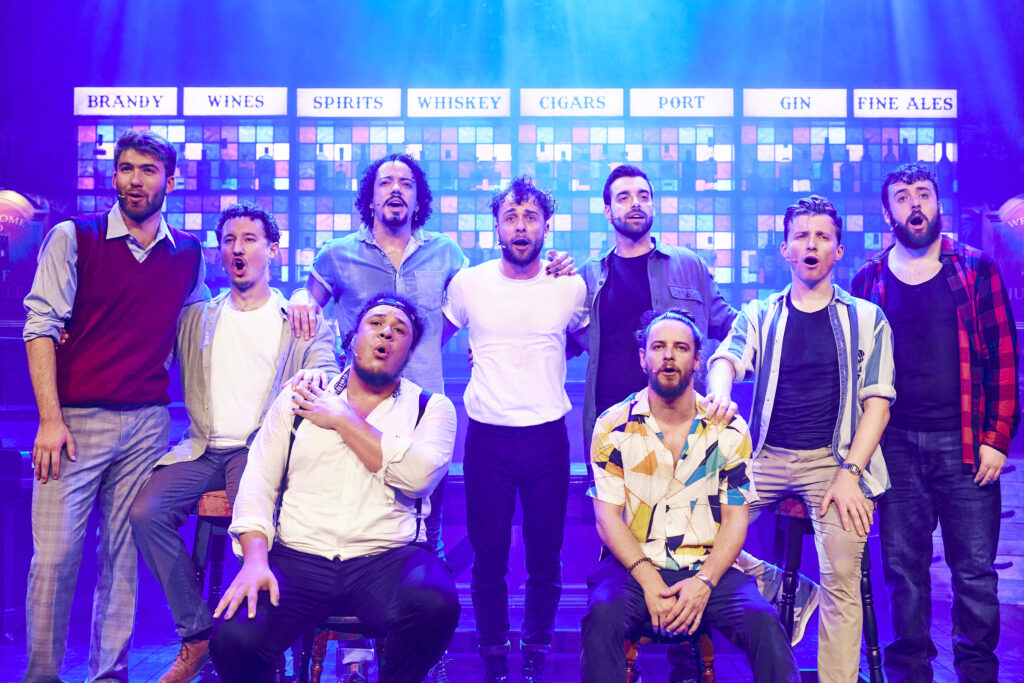 The Jungle reopens its doors in the West End for the return of one of the most uplifting shows of the year. Another Edinburgh Festival hit that has gone global, The Choir of Man is a warm bearhug of a show that has something for everyone.
With a functioning bar on stage to serve preshow beers (and some during the performance if you are lucky), The Arts Theatre is the perfect venue to turn into The Jungle pub, with its wonky, sometimes sticky, flooring and ancient seats always giving charming giant pub theatre vibes. The concept is simple – 9 men singing in a pub with a few monologues in between. But the song choices (from Adele and Sia to Queen via the Red Hot Chili Peppers) and Ben Norris's writing gives the show a huge heart. Perfectly capturing the camaraderie, earned trust and honesty (and occasional idiocy) of a group of male friends, the show touches on loss, relationships, men's mental health and community with Norris's poet linking songs and introducing the pub's regulars with heartfelt and funny words. Celebrating the community and shelter of pubs and mourning the loss of those amazing places where 90-year-olds and teenagers mix and share shaggy dog stories with a bar food menu that runs to peanuts and crisps, the audience cannot help but be caught up in the sense of belonging and togetherness emanating from the stage.
The cast are introduced as pub stereotypes early on – The Bore, The Beast, The Romantic etc. – before a beautiful section where Norris gives more insight into the actors as he talks about what home means to each of them – cue cheers from audience members whenever their hometown is mentioned. The cast are phenomenal, with varying vocal styles, but voices blending beautifully in harmonies. Jack Blume's arrangements are gorgeous, especially in the acapella numbers. On press night I was sitting between two former West End Beasts, and by the last number they couldn't resist joining in with the bass harmonies – surround sound increased the goosebumps during The Parting Glass. Lemuel Knights is hilarious as The Barman, and his smooth vocals are incredible. Jordan Oliver taps his way into everyone's hearts and Matt Thorpe, Levi Tyrell Johnson and Matt Beveridge's rendition of Under the Bridge is wonderful, producing varying reactions from the audience, depending on how much beer they have drunk. Michael Baxter, Owen Bolton and Matt Nalton will make you grin for the rest of the night – everything seems so natural and off the cuff, even the choreography, and that is the joy of the show. The cast all play instruments throughout the show, accompanying the amazing band above the bar – Emmanuel Nana Kwasi Bonsu, Jack Hartigan, Caleb Wilson and Darius Luke Thompson.
The Choir of Man is a great night out – full of heart, packed with fun and incredible musical performances.