Senses of Responsibility / Blue Moss
53Two, Manchester – until July 9th 2022
Review by Rebecca Hampson
5*****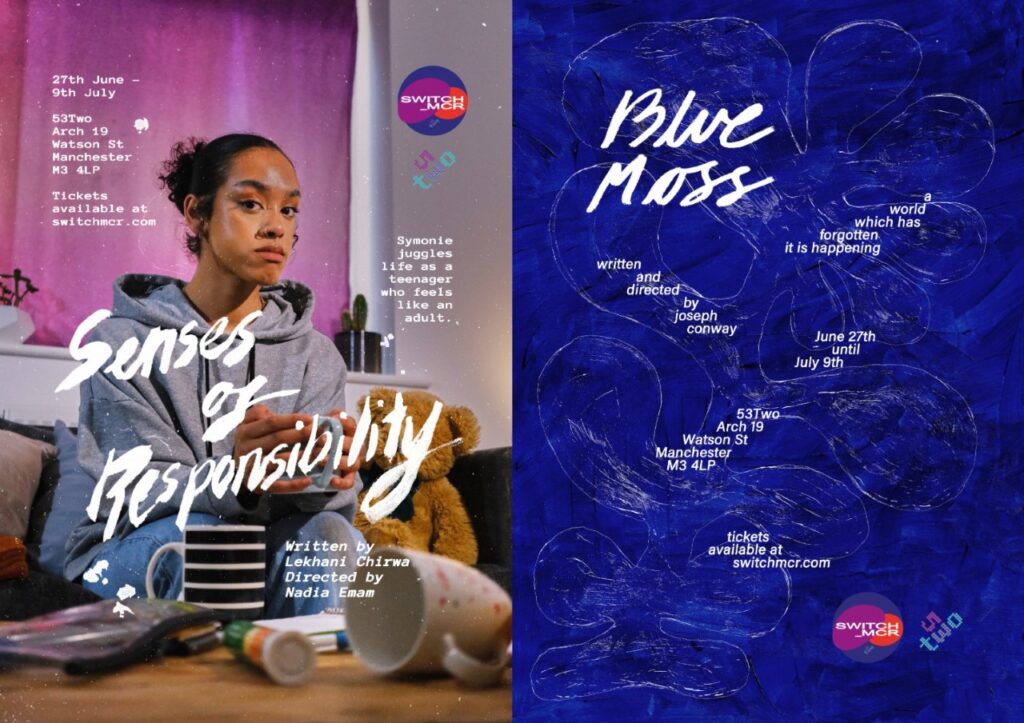 Switch_MCR are a Manchester based theatre company creating new and exciting accessible work. The company was founded by Royal Exchange Young Company members and is now one of the biggest independent theatre companies in Manchester. This Double Bill performance was a collection of two new and exciting plays, Lekhani Chirwa's 'Senses of Responsibility' and Joseph Conway's 'Blue Moss'.
Senses of Responsibility was a Poignant, Emotional, and Informative piece which saw Hope Yolanda as Symonie, a young carer dealing with her mum being diagnosed with a life limiting and debilitating illness. The performance explores Symonie dealing with being a young carer and how she comes to accept help to have her 'own' life. Within this performance Sara Abanur played multiple roles that Symonie interacts with in her life, and in particular, Symonie's social worker. The audience are able to identify these different roles with quick costume changes as well as Sara's incredible use of accent and pitch. This intimate show was staged in the round, with Hope using direct address to engage the audience in a way where they feel they could answer Symonie's questions. The minimalistic set of childlike items, such as plastic tea sets and plastic play food, shows the mental state of the character who is struggling with having to act like an adult when she really shouldn't have to an should be able to enjoy her teenage years. In this performance Hope Yolanda stunned as Symonie and portrayed this role with impeccable emotion. The performance was beautiful and inspired.
Blue Moss was a stark contrast to Senses of Responsibility. This futuristic and contemporary piece of theatre explored the themes of claustrophobia, memories, dreams, and loneliness. The piece was abstract and used physical theatre as the ensemble of three, Spike De La Cruz, Justin Sadiq and Laura Masters, used hypnotic movements and dance to a methodical almost alien pieces of music. The performance felt inspired by Artaud's Theatre of Cruelty as the actors slammed their bodies into one another and the floor in carefully choreographed movement. There were moments of disbelief between the audience and myself as we experienced the raw and intimate engagement between actors and spectators. The commitment to role must be commended in moments of extreme tension where the trio of actors used extreme vocals, screaming into the audiences faces. The minimalistic set in this performance added to its futuristic abstract feel as plants littered in plastic and paper adorned the in the round stage. Whilst all three actors gave outstanding performances I was captivated by Laura Masters.
The performances will be interpreted in BSL by Judith Jeddal but please check when booking as there was no interpreter at this performance.
These two spectacular performances by Switch_MCR will run at 53Two until July 9th so if you are in Manchester and fancy pre-drinks with a twist this fully accessible theatre is located under the arches next to Beetham Tower and only a short walk from the Deansgate-Castlefield Metrolink Stop!