Blackpool Winter Gardens – until Saturday 26 November 2022
Reviewed by Debra Skelton
5*****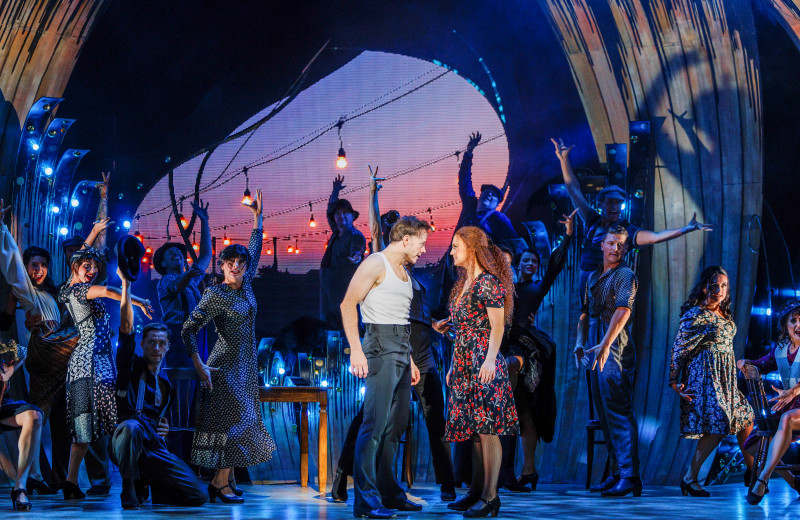 Strictly Ballroom The Musical has waltzed its way into Blackpool and what a show it is.
I have to say that the award-winning worldwide film directed by Baz Luhrmann that this show is based on is a huge favourite of mine so I was really looking forward to seeing how this production lived upto it and I can honestly say that it did.
Kevin Clifton is well known to me for Strictly Come Dancing but I never knew that he could sing and it was such a welcome surprise to see that he could not only dance beautifully but has such a lovely voice too.
The whole cast in the show were amazing, with their dancing, singing and a touch of humour here and there to make this such a warm and entertaining show.
This musical follows Scott Hastings (Kevin Clifton) who from the age of six has been fixated on one goal and that is to be become the "Pan Pacific Grand Prix Amateur Five Dance Latin American Champion".
Even though his mother Shirley (Nikki Belsher), teacher Les Kendall (Quinn Patrick) and his partner Liz (Agnes Pure) all confident that this will be the year, somehow Scott is still not entirely satisfied with what he has prepared.
Scott feels dissatisfied with having to dance in the way ordained by the all-powerful Australian Dance Federation under President Barry Fife (Gary Davis) and his resistance starts to push through at the Southern Districts Waratah Championships where Scott breaks the rules by dancing his own steps.
The repercussion of breaking tradition has a huge impact with Liz breaking their partnership and everyone condemning Scott for his recklessness except his father Doug (Mark Sangster) who just seems to potter around in his own world.
With only three weeks until the Pan Pacific, Scott is still without a partner and left wondering what to do next until Fran (Maisie Smith) a young, overlooked beginner in the Kendall studio who just might have ideas of how Scott can achieve his true dream.
So does Scott achieve his ambition, only a trip to see this wonderful show will answer that question.
The soundtrack that has been provided includes such songs as Love is in the Air, Perhaps Perhaps Perhaps and Time After Time and all new music written by internationally acclaimed artists including Sia, David Foster and Eddie Perfect.
This production would not be a success if I did not point out the creative set, lighting, sound, dazzling costumes, and superb choreography from the much-loved judge from Strictly Come Dancing, Craig Revel Horwood