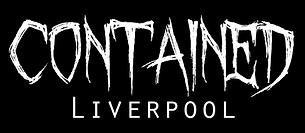 CONTAINED LIVERPOOL PRESENTS: THE EXORCIST… LIVERPOOL'S MOST IMMERSIVE HORROR ESCAPE ROOM EXPERIENCE
 Contained Liverpool Is back with a Brand New Horror Escape room Experience! Halloween might be over, but if you're looking for a scream, Contained Liverpool is open on weekends, year round with their brand new horror escape room game. 
The Live action Escape room experience will take you on a 60 minute journey (or less if you escape) of pure fear as you collect clues and solve puzzles in order to escape.
This immersive escape room will have your heart pounding as you race against the clock and attempt to find Father Daniels, who has mysteriously disappeared whilst investigating the possession at the child's home.
His last known location was at the home of a 12 year old girl who he believes was possessed by a vicious demon.
You must head to the house and search for the missing priest & assist him with the exorcism. Should you not find him, you will have to attempt the exorcism alone!
Be warned, unholy things have been happening in the house, you'll need to bring your courage and logic, as you come face to face with the demon in a final battle of good vs evil!
This tech heavy, interactive escape room is packed with challenging puzzles, thrilling frights and special effects
Maximum 6 people per game
Ticket price:
Groups of 2-3: £25 per player
Groups of 4-6 : £20 per player
Booking Link: www.containedliverpool.co.uk
If you are lucky enough to live to tell the tale, the rest of your life will be plagued with nightmares. The possessed girl's face haunts you as you sleep, always wondering if the demon will choose you next to possess!
Groups who are brave enough to join us for this ultimate, horror escape room experience will endure 60 minutes of fear, puzzles, and clues with a maximum group size of 6 persons per booking and a minimum of 2 persons.
Give The Gift Of Fear:
Gift Cards now available and can be purchased here: bookeo.com/containedliverpool/buyvoucher
Please note:
This event is not for the faint of heart, you may encounter scenes and creatures that some audience members may find distressing, including sexual references, bad language, loud bangs, Darkness and will need to be able to bend down to floor level.
You will encounter the use of flashing lights, non-toxic smoke effects and loud noises inside the escaperoom. ENTER AT YOUR OWN RISK!
This event is recommended for persons aged 15+
Any person under the age of 18 years MUST be accompanied by a responsible adult inside the game.