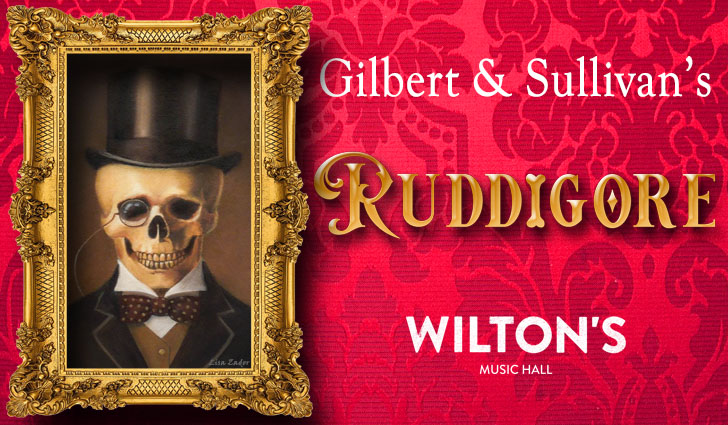 Ghostly Victorian fun with Gilbert & Sullivan's RUDDIGORE
at Wilton's Music Hall
Presented by Oracle Productions
14th – 25th March 2023

Surreal comedy meets genuinely spooky Victorian chiller in this unmissable production of Gilbert and Sullivan's Ruddigore, or The Witch's Curse, at Wilton's Music Hall.

Directed by Peter Benedict (Mapp & Lucia – The Musical and Terry Pratchett's Guards! Guards!), expect all the familiar G&S elements: terrific music, cheeky social satire, comic pathos and a sensational cast singing faster than you'd think humanly possible – but with a seasoning of sinister spectres.

Wilton's Music Hall with its faded Victorian grandeur, lends itself to a tale of ancestral ghosts who haunt the family picture gallery, and this innovative production will provide spine-tingling moments amidst the laughs.

Take a step back in time and experience Benedict's hilariously haunting take on Gilbert and Sullivan's tenth collaboration featuring some visual and musical surprises.

A family curse means a baronet must commit a crime every day or perish. In trying to escape his fate, he encounters dancing sailors, a bunch of frustrated bridesmaids and a chorus of ghosts. What could possibly go wrong?

Don't miss this truly magical experience performed in London's oldest Victorian music hall from 14th March 2023.
Cast and creative team to be announced.

Age recommendation: 12+
Tickets
14th – 25th March 2023
Box Office: 020 7702 2789
Online: www.wiltons.org.uk/whatson/774-ruddigore
Performances: Tuesday – Saturday at 7:30pm
matinées: Thursday and Saturday at 2:30pm
Age group: suitable for 12+
Getting there: Wilton's Music Hall, Graces Alley (off Ensign Street pedestrian only), London E1 8JB. Closest tube stations are Tower Hill (Zone 1), Aldgate East (Zone 1) and Shadwell (Zone 2). Closest rail station is Fenchurch Street.