Theatre Royal Windsor – until 8th January 2023
Reviewed by Carly Burlinge & Sarah-Jane Aged 10 
5*****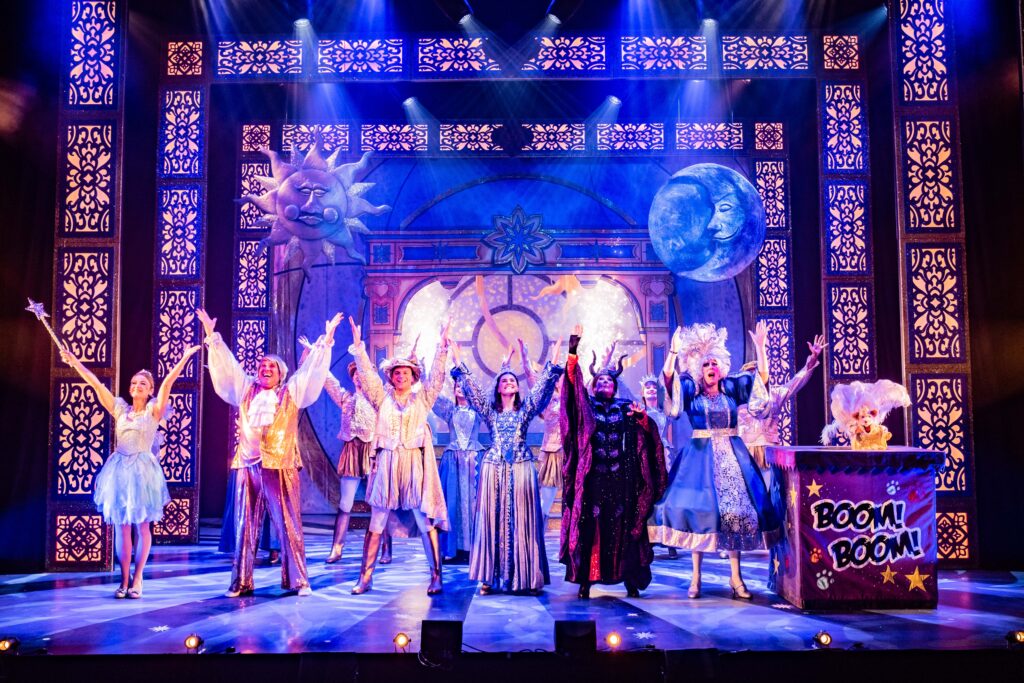 Theatre Royal Windsor brings you this year's panto and what a panto it was! Sleeping Beauty tells us the story that we all know and love but with a few twists thrown in, alongside with much excitement, enchantment, many laughs and just a great entertaining evening for all.
In a beautiful Kingdom filled with joy and love, Princess Aurora "Beauty" (Lauren Lane) is approaching her 18th birthday. What more to do then celebrate with her friends and family. Her father King Basil of Windsoria (Basil Brush) shows up on stage dressed as Elvis, The King of Rock and Roll, gets an instant roar of laughter from the audience with his trademark "BOOM BOOM KIDS" "BOOM BOOM BASIL" keeping the audience involved at all times. He decides to throw Beauty a party so that she can have some fun with her friend Chester the Jester (Kevin Cruise). Well, what can I say he was loud, full of excitement, smiley, cheeky and was just awesome getting the crowd involved from start to finish! Then there was Nurse Nelly (Steven Blakeley) with her many roles nurse, chef, schoolteacher the list goes on! With her outrageous, wacky and loud costumes full of colour, sparkle and some rather big shoulder areas along with many different wigs throughout the show, offering great slap stick comedy. Keeping both adults and children entertained. During Beauty's party she gets to meet Prince Edgar of Etonia (David Luke). Could this be her true love? Yet when the celebrations begin, The Evil Carabosse (Anita Harris) shows up with her horns of darkness, to ensure her curse that she gave to beauty on her birth. Of pricking her finger on a spinning wheel for her to die only for the sparkly magnificent Fairy Sunbeam (Elizabeth Carter) to change her spell into a deep sleep, only to be awoken by a kiss from her true love. Throughout the journey Prince Edgar of Etonia who's handsome and charming, steps up to save Beauty. Together on stage they offer a great performance with much singing and dancing to ensure fabulous entertainment.
It was so amazing to see great participation from the audience considering what we have all been through regarding covid. Everyone was taking part and having a wonderful evening it was just fabulous to see.
Then there was, of course, the twelve days of Christmas, Windsor style. Which was astounding to witness with bras a flying, toilet rolls taking flight, water pistols and sweet being thrown at the audience! What a giggle and immense amusement.
Windsor you have done it again! Not only was it spectacular but I am definitely in the Christmas spirit.
My daughters words – exciting, fabulous, entertaining and mum can we go and see it again!
It was amazeballs which made me chuckle!