Festival Theatre, Edinburgh – until 30th April
Reviewed by James Knight
5*****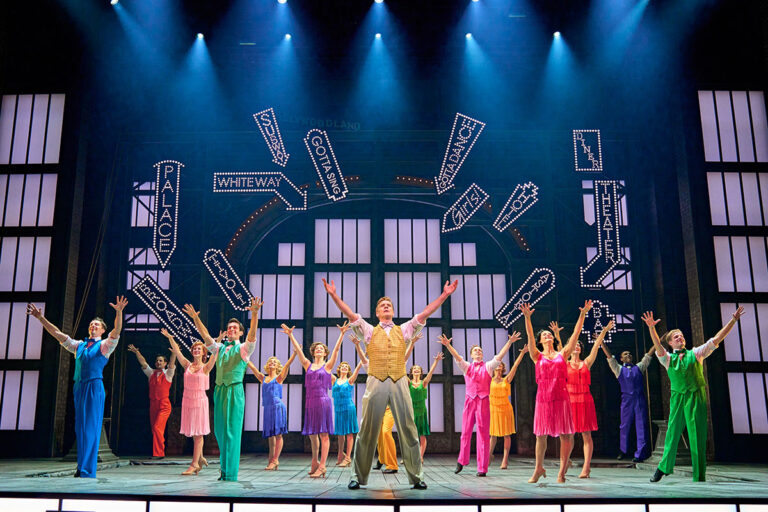 Whether watched on the big screen, live onstage, or curled up on a sofa on Boxing Day, there is no more beloved musical than Singin' in the Rain, and the latest UK tour fully captures that old Hollywood glamour perfectly. 
Originally released in 1952, starring Gene Kelly, Donald O'Connor and Debbie Reynolds, it was an instant hit and has consistently been at the top of lists of best musicals ever since. This production, originally performed at Sadler's Wells, has been entertaining the country and now lands at Edinburgh this week.
It's 1927, and Don Lockwood (Sam Lips) and Lina Lamont (Faye Tozer) are the stars of Monumental Pictures. Their positions at the height of Hollywood are pretty much secure, until the arrival of the 'talkies'. Don should be fine, but Lina has a voice comparable to nails on a chalkboard – something that could spell disaster for everyone's careers. It's up to Don, his best friend Cosmo (Ross McLaren) and new rising star Kathy Selden (Charlotte Gooch) to come up with a solution and save the day.
Packed with classic songs that stick in your head and dance numbers that simply astound for their energy and grace, this production manages to pay homage to the original film while still carving out its own identity. The ensemble shines throughout, with little character moments happening the whole way through, giving the show a lived-in feel. The main trio have real chemistry in their routines together, especially in 'Good Morning', although special mention has to go to Alastair Crosswell who joins in performing 'Moses Supposes' as an unsuspecting Dialect Coach. Faye Tozer is also clearly having the time of her life as the shrill and caustic Lina, particularly in the various filmed sections the audience is treated to, and frequently left the audience in stitches. 
With the iconic rain, fantastic lighting and a live orchestra, all these elements pull together to make a wonderful evening of entertainment.