RSC OUTDOOR PERFORMANCES EXTENDED
Socially distanced 'pop-up' performances to run throughout September in the Dell Gardens
Riverside Cafe and Rocket takeaway service extended throughout September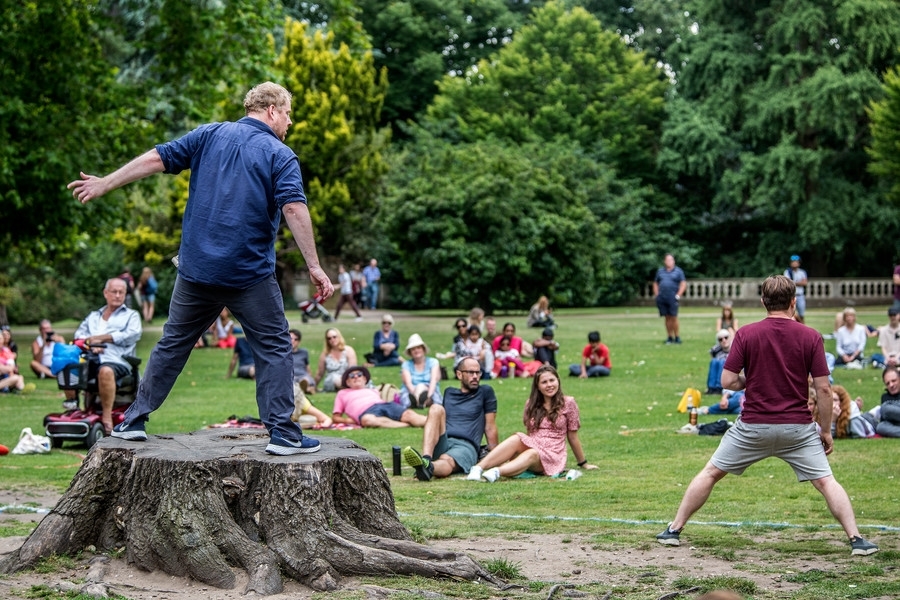 The Royal Shakespeare Company has today announced the extension of its popular pop-up programme of outdoor performances to run throughout September in the Dell Gardens, Stratford-upon-Avon.
Running until the end of September and sponsored by Darwin Escapes, RSC Snapshots will take place from Friday to Sunday for 45 minutes at 1pm and 3pm each day.
These free, high-energy, no-frills performances will be different each week, taking inspiration from both well-known Shakespearean texts and the works of some of the most promising new writers of today.
The performances will be delivered by actors from the RSC's postponed productions of The Winter's Tale and The Comedy of Errors and will be directed and curated by a different company member each week. Audiences will be asked to make a donation, if they can, to support the Keep Your RSC campaign.
Featuring a mixture of socially-distanced speeches and scenes from Shakespeare's best-loved plays, plus a selection of exciting new works and contemporary pieces, the performances are the perfect re-introduction to live theatre and are suitable for theatre enthusiasts, newcomers and Stratford day-trippers too.
Performances will be first come, first served, with space for up to eight household groups (maximum 6 people each), plus some standing spaces.
Friday 7 to Sunday 9 September – RSC Deputy Artistic Director, Erica Whyman (who was due to direct the RSC's postponed production of The Winter's Tale this Autumn) will join forces with Assistant Director Aaron Parsons to curate 'The Truth and Nothing but the Truth; an epic yet intimate celebration of truth and self-hood combining well-loved extracts from Shakespeare with excerpts from a selection of new works produced by the RSC including Can Dundar's #wearearrested, Anders Lustgarten's The Seven Acts of Mercy and Alice Birch's implosive Revolt. She Said. Revolt Again among others.
Friday 11 to Sunday 13 September – This will be followed by a celebration of music, poetry, songs and sketches from 11 to 13 September as members of the RSC acting company gather for an open-mic afternoon with a difference.
Friday 18 – Sunday 20 September – Hal Chambers – Assistant Director of the RSC's postponed production of The Comedy of Errors – invites audiences to revel in the royal history of Kings and Queens past.
Friday 25 – Sunday 27 September – RSC actors Kemi Bo-Jacobs and Assad Zaman will curate a celebration of new writing produced under lockdown to wrap up RSC Snapshots.
RSC Artistic Director, Gregory Doran, said: "Despite our theatres being closed for full productions until 2021, our acting company continue to work on events and activity, including our programme of outdoor Shakespeare in Stratford, which has proved incredibly popular with audiences throughout August. Whilst we continue to do everything we can to bring our buildings back to life as soon as possible, we are pleased to announce the continuation of our outdoor performance throughout September.
"This month's programme will see extracts from Shakespeare's plays feature alongside a selection of exciting new works by the playwrights of today. I am delighted to see Stratford audiences embracing this unique programme of socially-distanced, outdoor theatre and look forward to a time when we can welcome them back to our buildings to share the experience of live theatre with them."
The RSC has also announced that visitors can continue to take advantage of a daily takeaway service from the Riverside Cafe throughout September, which is open from 10am to 4pm daily. Customers are asked that they observe social distancing throughout their visit, using the markings on the pavement and payment is by contactless card only.