Theatr Clwyd, Yr Wyddgrug/Mold – until Saturday January 14th 2023
Reviewed by Julie Noller
5***** (oh yes it is)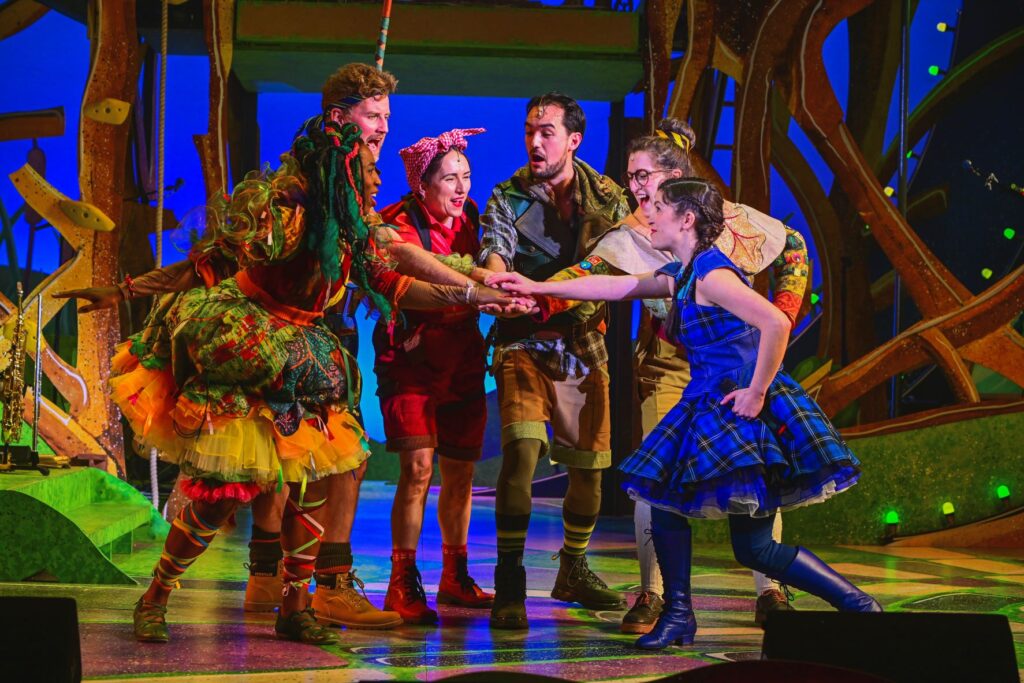 It's November theres a certain red bevage truck doing the rounds, we are all seeing which adverts aimed to evoke the biggest emotional response and linked in with those expected things is Panto; as British a tradition as Fish and Chips. These days each theatre attempts to carve a slice of festive fun and attract its own niche market. Congratulations to Theatr Clwyd with their own take, the Rock and Roll Pantos.
It has to be said I love the kitsch in your face brand of British humour panto slaps its thighs at every year and I also love a good old singsong with great tracks, the Rock and Roll Panto at times feels like a small intimate concert. Theatr Clwyd is still itself thigh deep in renovations but the main hall although dated is still cosy and welcoming.
The stage set and lighting by Adrian Gee and Johanna Town is typically Panto; bright and colourful, our actors turned musicians can be seen on its tiered levels, the green lights twinkling into the auditorium turning red for a time whilst still maintaining their Christmas brightness.
Obviously being Robin Hood we are looking at trees but not just any old trees but Flintshire Forest or Flintshireshire Forest if you listen to one certain dastardly villainous Sheriff the bootastic Ben Locke who reminded me of of Rik Mayalls Flashheart from Blackadder. His portrayal was brilliant how he played it straight with such campness is remarkable. Then there's fairyesque Chioma Uma as Jolly Goodfellow with her flowing rhymes and matching costume befitting her ending magic speaking to the trees. The cast of merry men is bolstered by Lynwen Haf Roberts as Friar Tuck with her stinky and very loud farts delighting the younger audience and Alice McKenna as grumpy and very set in her ways Scarlett. Connor Going was a gentle yet almost shy Robin Hood taking enjoyment in winding up the Sheriff as an authority figure but of course having the total respect of all his men. Celia Cruwys-Finnigan was a feisty Maid Marion whose costume changed in a Bucks Fizz whipping the dress off firstly to pinafore then onto jeans. Celia gives Marion a sense of girl power not just living to kiss a prince (or outlaw) but to fight against her oppressor (The Sheriff) and escape her dull life of expectation. The Sheriffs men Clod (Joe Butcher who also cameos as King Gruff in a show stealing scene) and Snot (Caitlin Lavagna) are downtrodden and bullied helping to raise the boos. That leaves our 2 experts among the Panto cast Daniel Lloyd as Little John who brought such a sense of fun and laughter when on stage with Phylip Harries as Muf or Lady Myfanwy of Mold (just fabulous costumes with a surprise change which will amaze.)
We were close enough to the stage to see faces crumpling, lips curling these are my favourite moments the ad-libs the quips and one liners that make the most professional actors snort with laughter. It was great to watch an old fashioned Panto with a modern twist, fabulous music and an audience that ticked most age boxes. We laughed, we sang, we most definitely booed, some got up and danced and some of us managed to get squirted in the face with the water guns but we wiped our glasses off and laughed with the stranger sat next to us.
The humour was a bit close to the knuckle that you sometimes had to laugh harder at the quizzical faces wondering why you had laughed. There was plenty of local humour and quips including politics. My last comments are about poor Matt (or perhaps tonight it will be Bryn) who I chatted to after the show he will most definitely be buying next years tickets, sat on the front row he was the object of Mufs desires. He was also pulled up on stage and dressed with a bucket hat and draped in Welsh Flag whilst the audience sang and wished Wales a 5-0 win over England – being English too I felt his pain but he took all the jesting with the good fun intended.
Congratulations to the whole team and Theatr Clwyd on a great production we had a brilliant night which was a perfect way to begin the festive cheer.