Jack Studio Theatre – until 5 March 2022
Reviewed by Claire Roderick
4****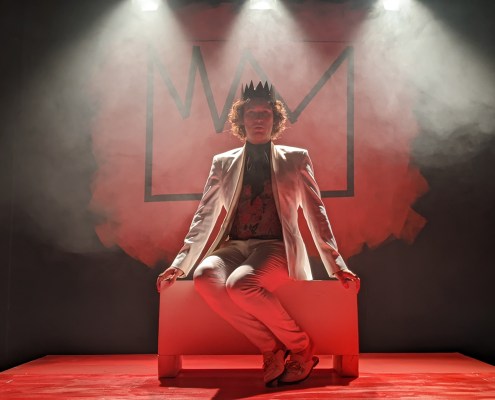 We Are Animate's slick and streamlined production of Richard II is both an enthralling introduction to Shakespeare and an exciting new version for those already familiar with the play.
The story of the isolated and indulgent Richard being deposed and replaced by Bolingbroke, who handily had a personal grievance to pursue that fit well with the English nobility's need to rid themselves of a king who was becoming a liability, does not suffer greatly from being shortened. The plotting between the nobles and their hand wringing over whether it was right to remove a man anointed by God are removed, keeping the focus on the battling cousins and their closest allies and galloping through the story in 80 minutes. In lesser hands this would feel rushed, but director Lewis Brown includes musical moments and movement sequences to allow breathing space and also further the plot (Bushy's execution, in particular, is beautifully choreographed).
The minimalist set painted red, white and black with two platforms on different levels manages to convey the power dynamic of each scene, with Richard relegated to sitting on the floor in the final scenes. The colours of the set are echoed in the costumes of the cast, indicating the loyalties of each faction. Even with less characters featured, some of the cast of eight play multiple roles, but there is no confusion as the costumes clearly show the different characters. The inclusion of only one of Richard's favourites, Bushy, means that Aumerle (Harriet Barrow) becomes less ambivalent in the early scenes and more vocally Richard's man, echoing and concentrating his father's opinions on loyalty – giving greater meaning to his misguided decision to show ultimate loyalty to Henry in the final scenes of the play. Hilary Burns and Lizzy Dive bring an air of world-weary authority to Gaunt and York, and Daniel Ghezzi's Northumberland has an air of menace that conveys the dubious plotting and selfishness behind the scenes brilliantly. This play depends on two strong leads, and this production doesn't disappoint. Casting Fleur De Wit as Bolingbroke adds many layers, contrasting her calm and measured confidence with Richard's emotional and capricious nature to skewer gender stereotypes of leadership. De Wit plays Henry with righteous anger always simmering, but controlled, and the only time she shows any freedom in her emotions is in the leadup to her fight with Mowbray. A beautifully judged performance. Michael Rivers could have chewed the scenery as Richard, but instead delivers a wonderfully nuanced portrayal of an entitled man-child. Rivers' nails Richard's casual arrogance and his disdain for those who do not play his games, making him equally funny and infuriating. The emotional outbursts and changeability are believable and even though Richard is a feckless king, Rivers ensures that the audience have sympathy for what is left of the boy that a life on the throne ruined.
Expertly abridged for maximum impact, We Are Animate's Richard II is well worth a look.