Courtyard Theatre, London – until 21st August 2022
Reviewed by Bobbi Fenton
4****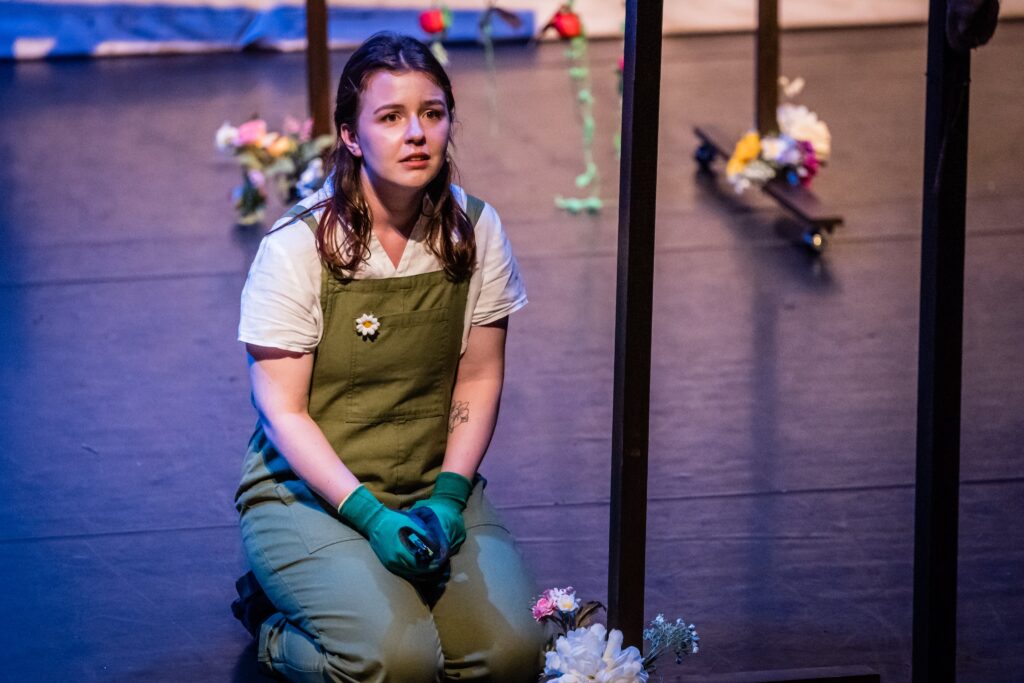 In Greek Mythology, there are many different versions of the story of Persephone, in which she eats pomegranate seeds and marries Hades. 'Persephone', ingeniously written and directed by Emma Hawkins, combines the many stories of Persephone into one brilliant story. In this play, Persephone, Goddess of spring (Bethan Draycott) meets Hades, God of the Underworld (Peter Todd) and they dance together in the woods. Hades convinces Persephone to go with him to the underworld, which enrages Persephone's mother Demeter, Goddess of harvest (Emma Starbuck) who causes a famine when she leaves to find Persephone. Hermes the messenger God (Franco Lopez) is sent by Zeus, King of the Gods (Lorcan Cudlip-Cook) to retrieve her and bring her to him, where he attacks her. Persephone befriends Aphrodite, the goddess of love (Abi Watkinson) who later hides her when Hades is angry at Persephone for being pregnant with Zeus' child. This play combines the many stories of Persephone, while capturing the chaotic and complicated nature of Greek Myths.
The music that features in this show is so cleverly written, and I especially liked the back and forth between Hades (Peter Todd) and Zeus (Lorcan-Cudlip-Cook) during the song 'Hey Brother'. The pair work excellently in this song together, as they have great singing voices. That said, it is difficult to narrow down a favourite song, as they are all incredible, and performed by highly talented actors. The lyrics to Aphrodite's (Abi Watkinson) song 'Leave Them Wanting More' are delivered perfectly, with such powerful vocals from Watkinson.
The set is made up of four rails on wheels, which are used to hang props on the show the setting of Demeter and Persephone's home, and the forest, while Zeus' office and Hades' office both have a sofa, with a desk and chair. The set is generally quite minimalistic to allow for easy transitions between scenes, and this works very well for the show.
The whole show is absolutely magnificent, and although there are a few moments where the sounds of props being wheeled around slightly muffle the actors' voices, the pure talent of the actors is not lost. Anyone who is a fan of Greek Mythology should see this amazing show.