Leeds Playhouse – until 15 October 2022
Reviewed by Dawn Smallwood
5*****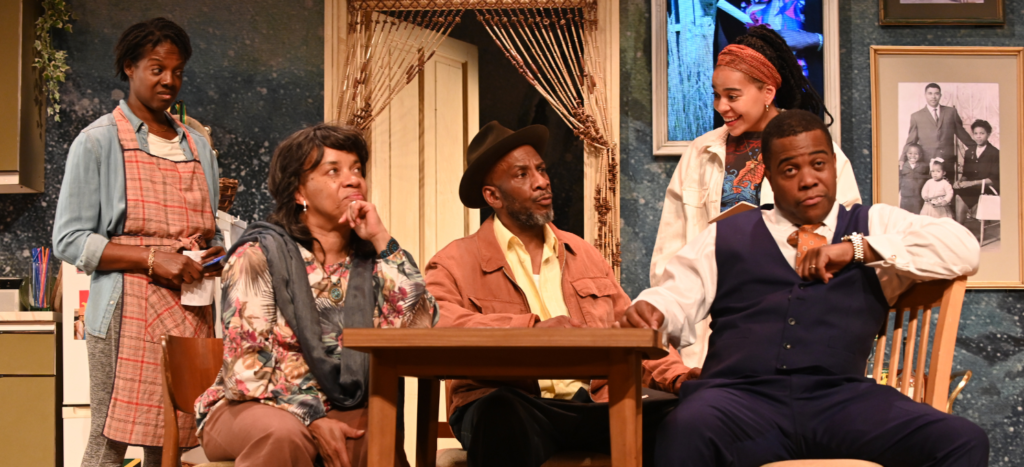 Natasha Gordon's Nine Night is a Leeds Playhouse and Nottingham Playhouse production. The play links to Jamaican Society Leeds' Out of Many Festival, which is celebrating 60 years of Jamaican Independence. Nine Night, an award-winning play, was originally commissioned by the National Theatre and had a successful run there and in the West End.
Under the direction of Amanda Huxtable, Nine Night, is a comedy that is emotively centred round a traditional nine-night wake of Gloria, the family's late mother and grandmother. Emma Williams' ambient set and costumes and Simisola Majekodunmi's lighting provides the perfect backdrop where all the action is centred in the kitchen and lounge.
The multi-generation family gets together during the nine-night wake to pay tribute to the late mother. Amid traditions and modernity, each member individually and uniquely shares their personal tributes for Gloria as well as confronting one another with issues, past and present, over food, drink, and religious contemplation. The audience is invited to get an insight into Jamaican culture and how one's passing of life is celebrated and contemplated with laughter and tears and the accompaniment of familiar objects and subjects.
All the members of the cast give excellent portrayals of the characters with Shereener Browne as Lorraine, Gloria's daughter and main carer. Browne gives a strong level-headed performance and takes in her stride Lorraine's responsibilities and burdens following her mother's passing. Josephine Melville and Wayne Rollins gives characteristic and entertaining portrayals as the late mother's sister, Maggie, and brother-in-law, Vince. Rollins especially entertains and engages with his funny mannerisms, expressions and moves portraying Vince.
This short heartfelt funny yet poignant play which is excellently staged and is unmissable.