Birmingham Repertory Theatre- until 8th October 2022
Reviewed by Emma Millward
4****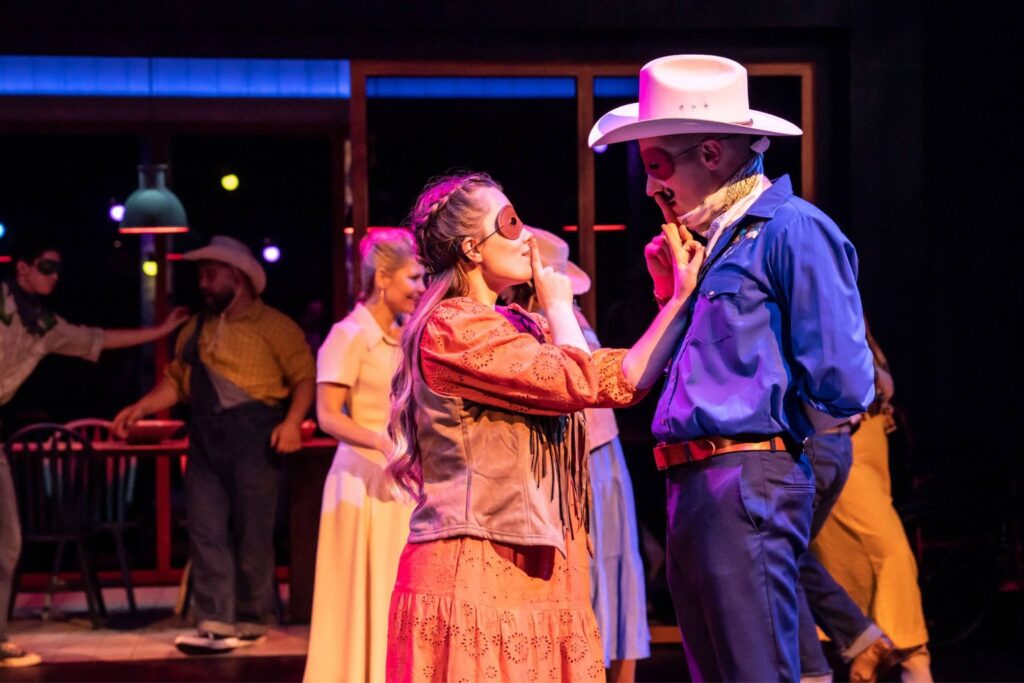 Ramps on the Moon is a collaborative partnership, led by the New Wolsey Theatre, Ipswich, of six leading regional theatres- including Birmingham Repertory. They aim to enrich the stories they tell and the way they tell them by normalising the presence of deaf and disabled people both on and off stage.
From the outset, it is very clear this is a totally unique kind of production. The cast congregate upstage in a log cabin with patio doors. They wave to the audience and emerge excitedly, coming forward to speak to the crowd. One by one, they introduce themselves and describe their outfits and their surroundings onstage. They make it clear the performance is for all, and that everybody should feel free to make noise, move around and use electronic devices if it will help them feel more comfortable in the auditorium. There is a lot of information to take in during the show. British Sign Language (BSL) is used throughout, often translated by other actors onstage. The log cabin roof doubles as a captioning screen, slowly scrolling with the entire dialogue of the play.
William Shakespeare's comedy revolves around the relationship of Claudio (Taku Mutero) and Hero (Claire Wetherall), and the match making of other characters determined to get Beatrice (Daneka Etchells) and Benedick (Guy Rhys) together, despite their joint denial of being capable of love. The whispers and eavesdropping that follows are fast-paced and often silly. Director Robert Hastie adds quite a few modern twists to the tale. The 'Masquerade Ball' becomes a line dancing masked 'hoedown'. While Benedick utters the immortal line "I pity the fool" as he describes those who fall in love!
The second half of the show definitely feels less frenetic than the first half, and we get to know the other characters better. Hero's parents, Leonato (Gerard McDermott) and Antonia (Karina Jones), in particular shine as they endeavour to prove their daughter's innocence when she is wrongfully accused of adultery. While Dogberry (Caroline Parker) and Verges (Lee Farrell) make a funny and camp duo who cause lots of confusion as the Constables.
Although the whole ensemble work brilliantly together, Daneka Etchells and Guy Rhys definitely stand out as Beatrice and Benedick. The scene when they finally declare their love for each other is both touching and heart breaking in equal measure. Etchells, who is autistic, doesn't hold back their physical stims and taps on their arms ever more aggressively as Beatrice gets increasingly upset. As the parent of a daughter with Autism, I found it refreshing to see this occurring onstage, but also found myself very emotional watching this overwhelming scene.
At almost three hours long (including a short interval), it can begin to feel a bit laboured in places, but the ensemble's obvious enthusiasm and charisma helps to draw the audience back in. All in all, it is a brilliantly modern and diverse take on a classic production that proves Shakespeare can be accessible to all.