Edinburgh Fringe Festival
The Space on the Mile (Space 3), Venue 39 – until 27 August 2022
4****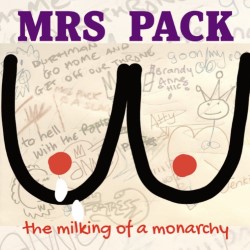 It's the kind of fact that history skims over on the way to bigger things: Queen Anne had 17 pregnancies but all her children died. Nia Williams explores this searing story in her beautiful  short musical/opera Mrs Pack.
The real Mrs Pack was a wet nurse, who breastfed the only one of all those babies to survive into childhood. Pack was celebrated at the time for saving the heir to the throne (he died aged 11). We only know about her now because of a memoir written by a manservant, but for a while she was at the heart of court intrigue. The story is told from the servants' point of view. The cast of four handles multiple parts and carries the story along, sometimes talking, sometimes singing Williams's lovely interweaving harmonies.
 It's short – 50 minutes. The set is minimal – some poignant little bundles of cloth and a washing line.
Rhiannon Williams is glorious as larger-than-life Mrs Pack and others; Olivia Baker performs with quieter intensity as her rival Atty; Isabella Jeffrey (excellent as the young prince) and Chris Johnson turn on a sixpence to cover all the other parts, and they all manage to make us laugh at the same time as telling a heartrending tale. Despite the subject matter this isn't a glum show; it's bright and lively but very moving, with a sense of empathy for all the people caught up in this tangled web. This is a Three Chairs and a Hat production, directed by Katie Blackwell.