Lyceum, Sheffield – until 5th November 2022
Reviewed by Alison Beaumont
4****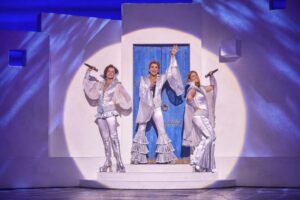 I'm sure most people already know what Mamma Mia the musical is about but for those of you who don't Mama Mia is a smash hit musical based on the songs of ABBA. It tells the story of a single mother (Donna) and her daughter (Sophie) who live on a Greek Island. Sophie has never known her dad but when she is due to get married to her boyfriend Sky she dreams of her dad walking her down the aisle. Sophie finds an old diary of her mums which leads her to the possibility of 3 father's, Sam, Bill and Harry. Sophie decides to invite all 3 men to her wedding without the knowledge of her mum to try to find out which one is her real dad.
Having seen the musical and the movie many times before I was really excited to be seeing this once again. After all who doesn't love a bit of Abba.
The orchestra perform some of the songs before the first and second acts and gave you a small insight into some of the songs. However, the music at this point was really loud and could have done with being toned down a little bit.
Sophie is played by Jena Pandya and from the moment she stepped out on stage and started to sing I knew she was going to play the part well. Her voice seemed pure and innocent and from start to finish she didn't fail.
It took a bit for me to get used to Sara Poyzer who played Donna but as the show went on I found I was enjoying her more and more. She totally blew me away when she sang "The Winner Takes It All" and this had to be the be one of the best songs of the show.
Unfortunately for me personally I wasn't feeling the chemistry from Toby Miles who played Sky towards Sophie and didn't think he was strong enough vocally for the role compared to people who have played this role previously.
I loved the costumes when Donna and the Dynamos sang Super Trooper. Tanya and Rosie were played by Helen Ankler and Nicky Swift and certainly added a comedy element to the show. Although you have to give the award for the best comedy performance in this musical to James Willoughby Moore for his role as Pepper. He definitely made the audience laugh.
I really enjoyed "Gimmie! Gimmie! Gimmie!" I thought the choreography in this was amazing and all the cast and ensemble made this a pleasure to watch. I particularly liked Chloe Gentles from the ensemble.
It was without a doubt that this musical ended up with everyone on their feet joining in with the all time classics of ABBA.