Bristol Hippodrome – until 10 September 2022
Reviewed by Lucy Hitchcock
3***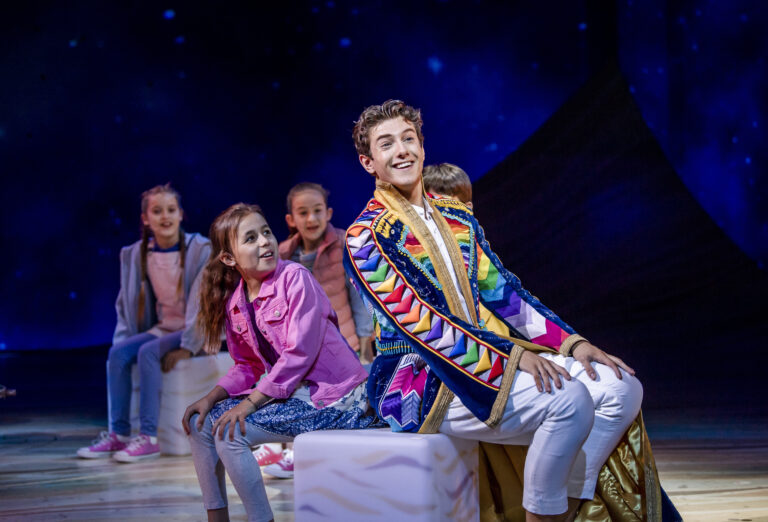 Andrew Lloyd Webber and Tim Rice's creation of Joseph and the Technicolor Dreamcoat has hit Bristol Hippodrome for a 10 day run.
Widely anticipated with a large following and promise of glitz and glamour, this show has been heavily publicised, but this led to a disappointing end. The show is overhyped and left me dissatisfied and disappointed – not to detract from the performers. Linzi Hately as the narrator has a difficult job with hardly any breaks but I found her performance to be a little too cheesy towards the end, turning the show into a slight pantomime feel. Jac Yarrow is the eponymous Joseph, with a decent performance and vocals, he adds to the piece. However, with all of the soloists, it was hard to understand and hear their lyrics over the ensemble and band. If you don't know the show beforehand, there's a large chance you will leave in the same boat. Unfortunately, all the cast have a difficult job of creating a perfect performance with this show due to the confusing and 'cabaret' like story line.
Jason Donovan is on stage for a 10 minute fleeting visit, where he does what I can only describe as an Elvis tribute act. His song was overdone, with 3 pauses for applause before continuing with the next verse, giving me the impression that the show was focused around this one song.
Composed by Andrew Lloyd Webber, 'Joseph' has no dialogue breaks and during the first act I was wishing for some dialogue to bring the piece to reality. A simple story line – Joseph is disliked by his brothers and is cast aside, becomes a slave and manages to become the Pharaohs aide, before being welcomed back into his family. Unfortunately, there was no bite or grit with this and the performance was on the same level throughout, there were no peaks and troughs for an opportunity for the audience to process what they had seen. Both the first and second act were continuous songs, interspersed with cancan, tap, jazz, ballet and many other varieties dance, leaving me confused and frustrated that the story wasn't progressing.
The cast did a good job working with the script, it was just a shame that they were unable to showcase their talents. The children in this show were the driving force, with some comedic elements in songs that were a breath of fresh air. I can't wait to see where these children will end up!